Me We World 

|

The Me-We-game
Inspire people to imagine and explore new existential concepts.
On this page, you find the information & the (downloadable) design of the Me-We-game 2020
(New 2023 edition)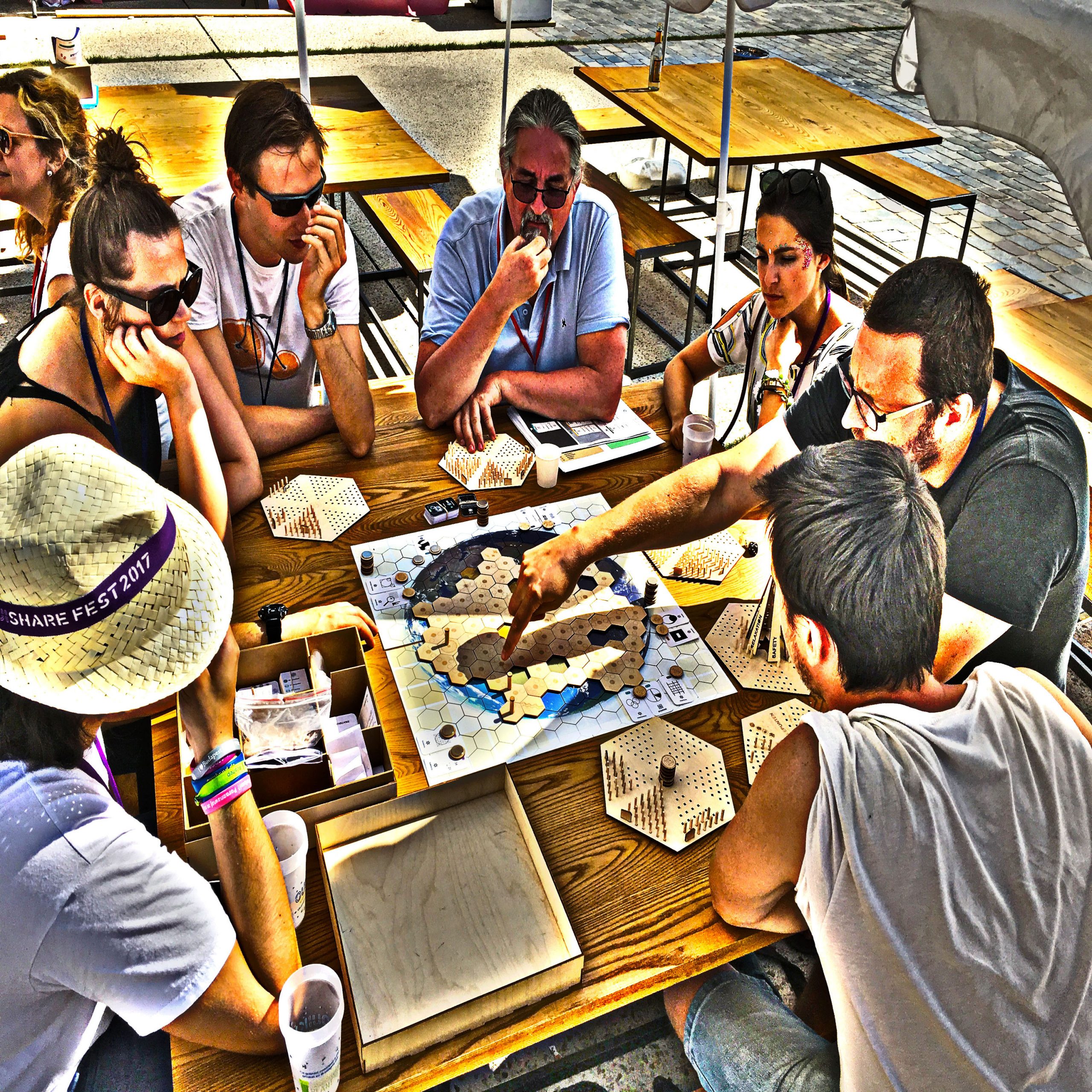 Me-We game at QuiShare fest prototype 3 | 2017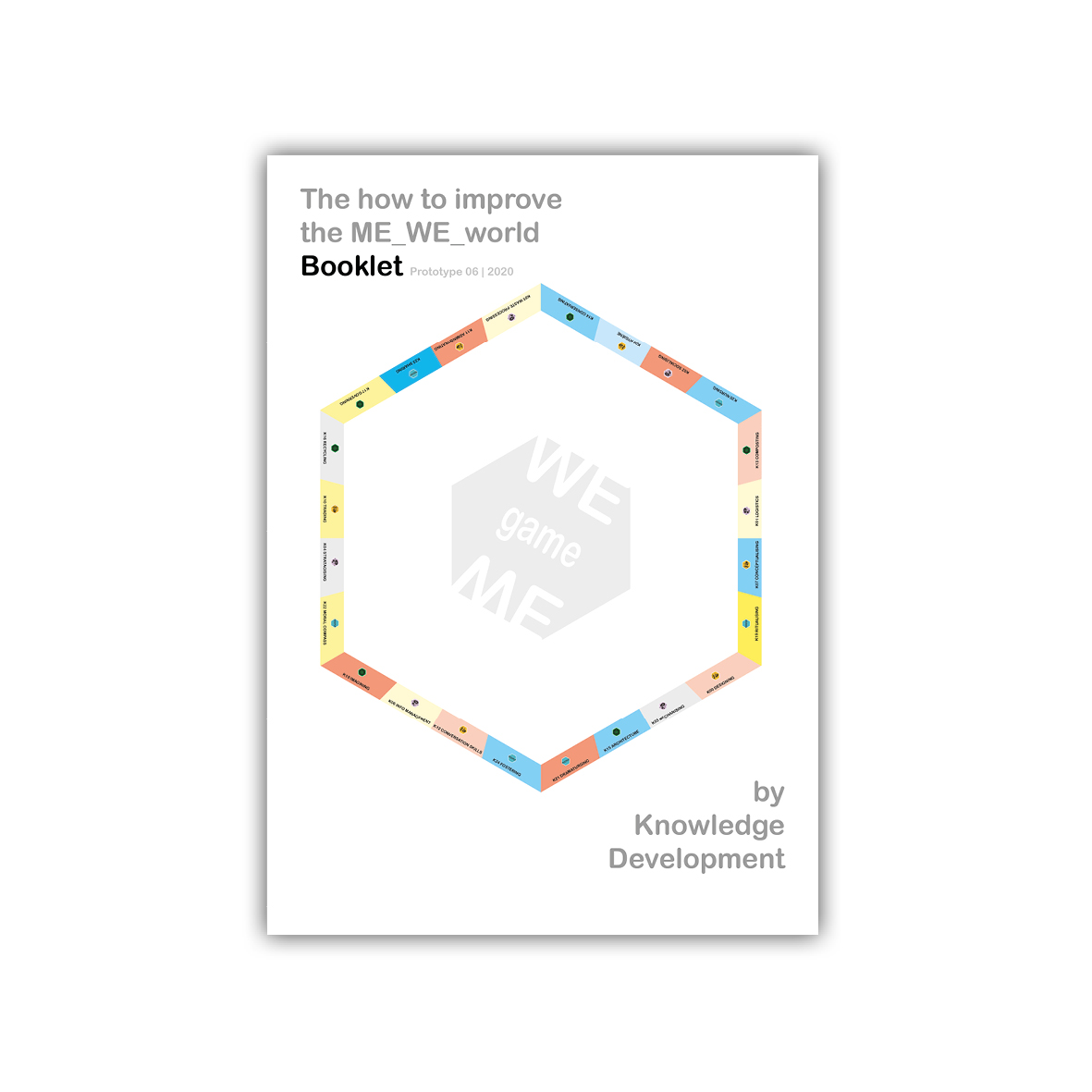 Download
The how-to Improve Me-We-World Booklet (pdf)
The updated version will be available from April 2023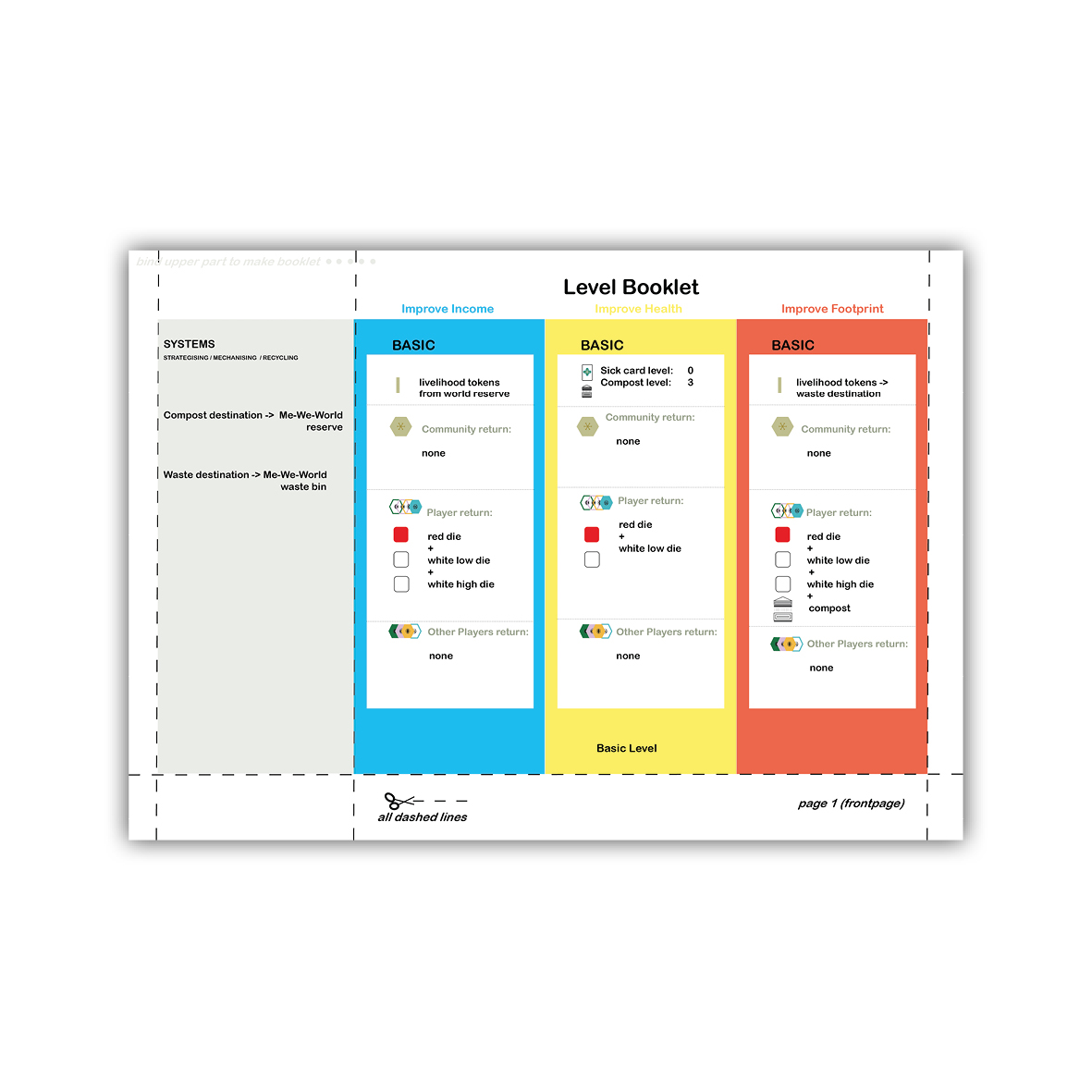 Download
The Me-We-World Level Booklet (pdf)
The updated version will be available from April 2023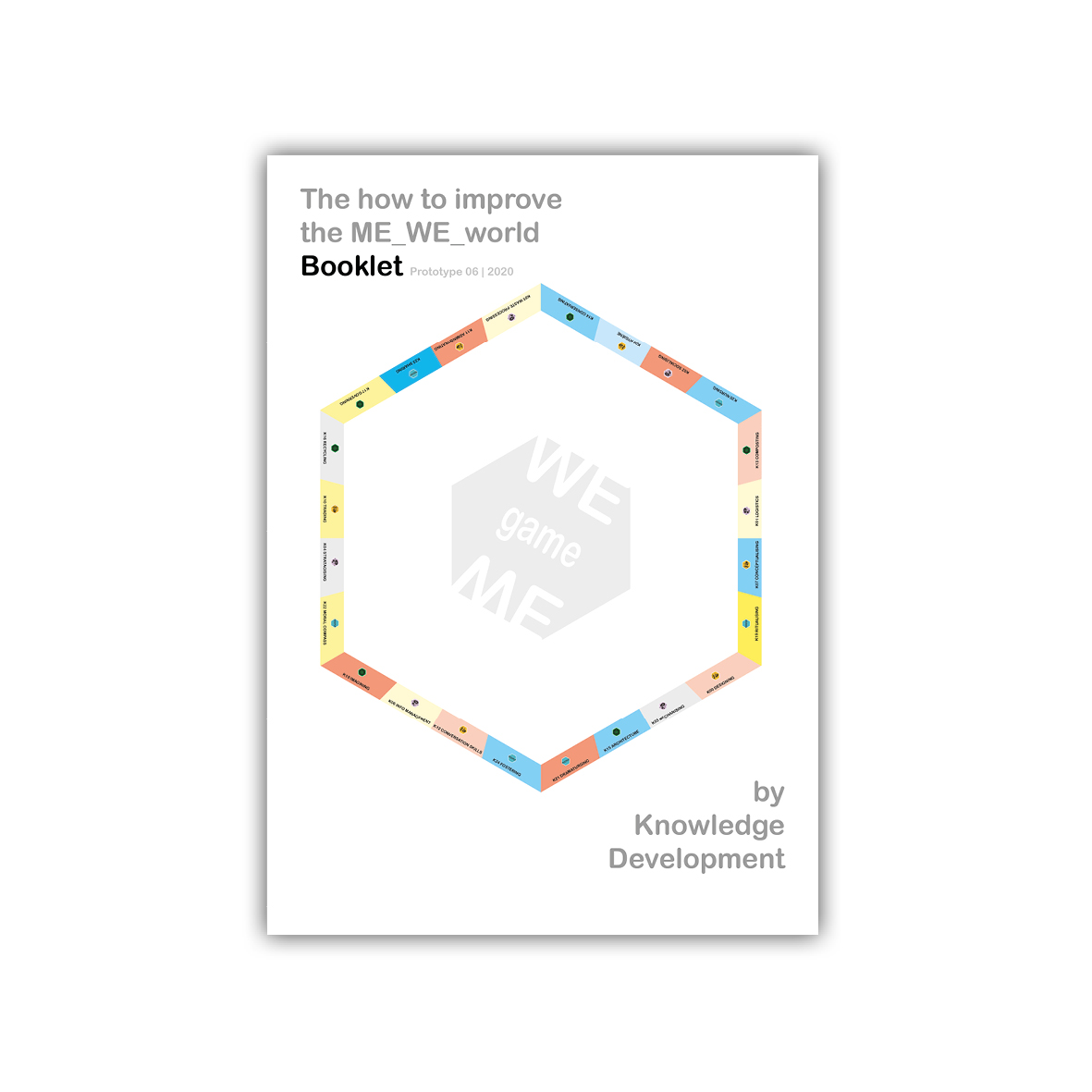 Download
The how-to Improve Me-We-World Booklet (pdf)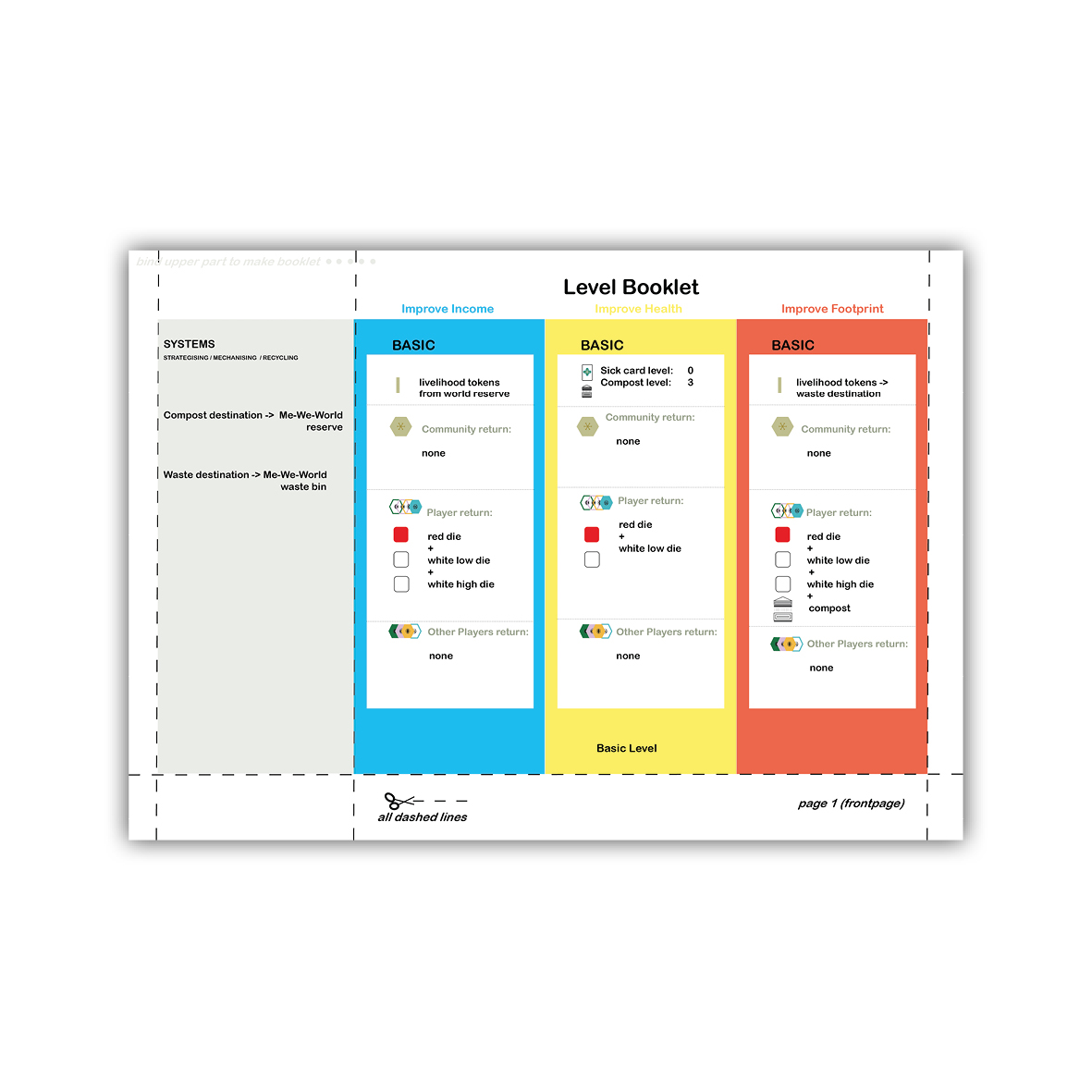 Download
The Me-We-World Level Booklet (pdf)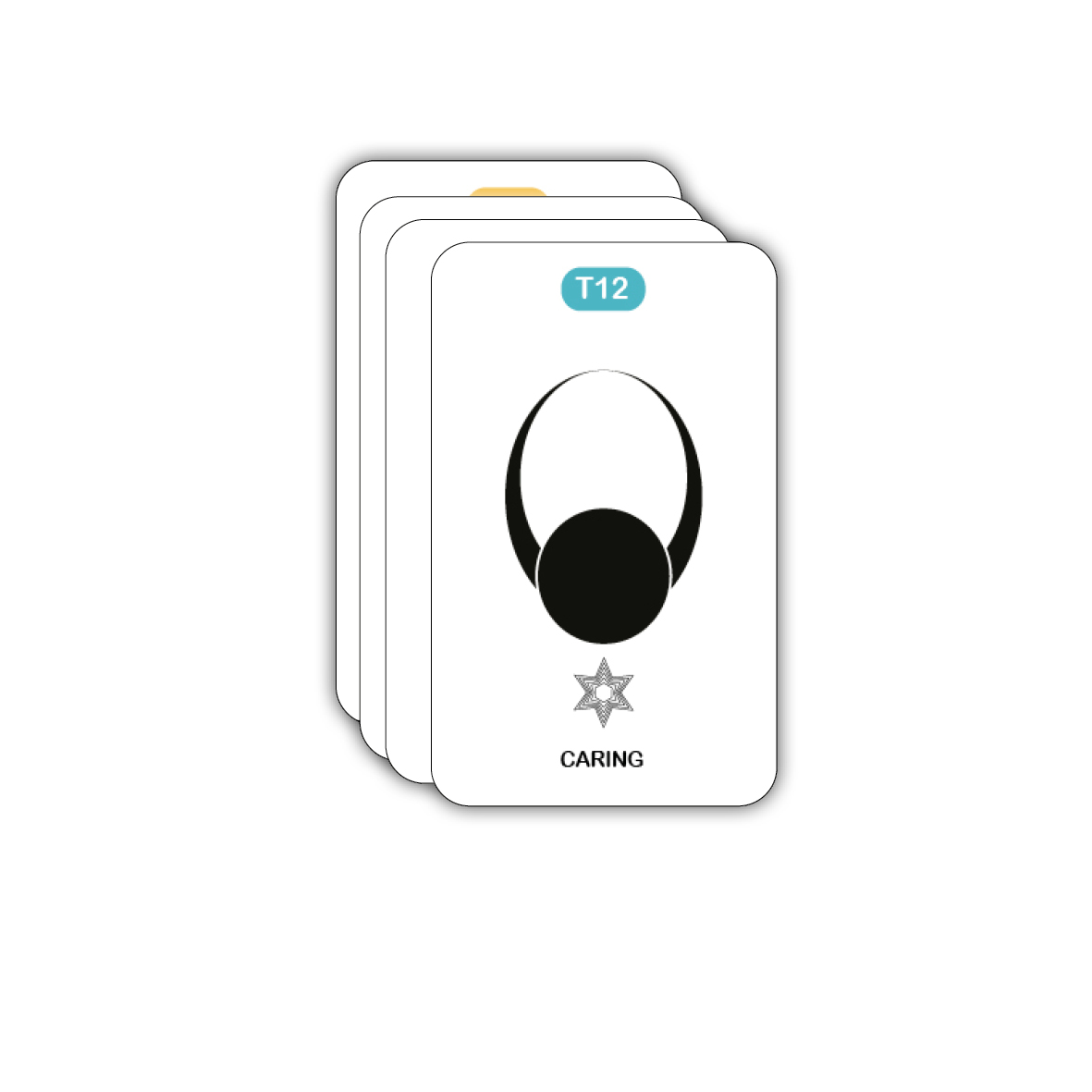 Download
The Me-We game Talent Cards (pdf)
Download
The Me-We game Sickness Cards (pdf)
Download
Me-We game House & Barn flags (pdf)
Order
Order 1000 Pushpins locally or send an email to Simone de Wijn
kwakyedewijn@gmail.com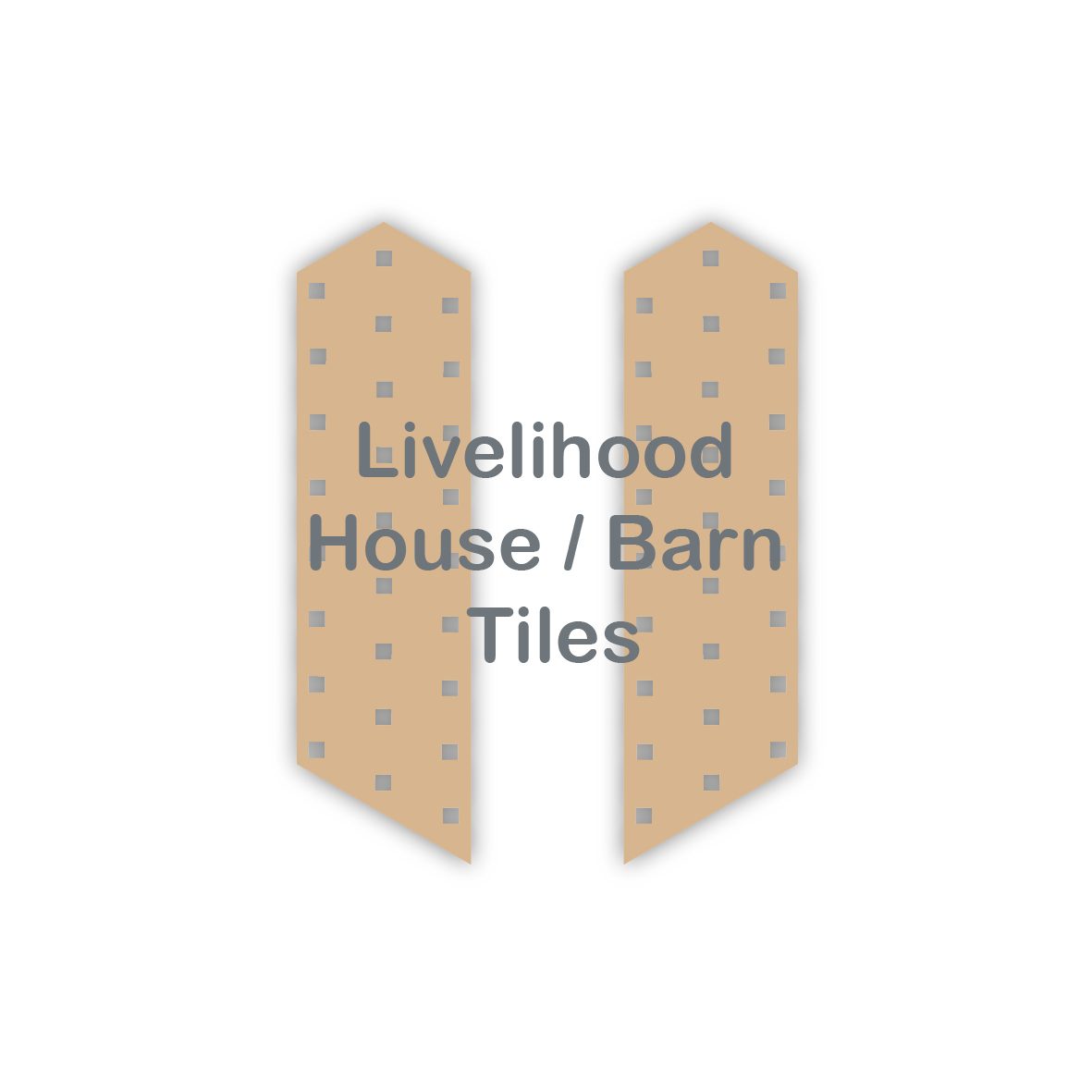 Download
Livelihood House/ Barn Tiles print version (pdf)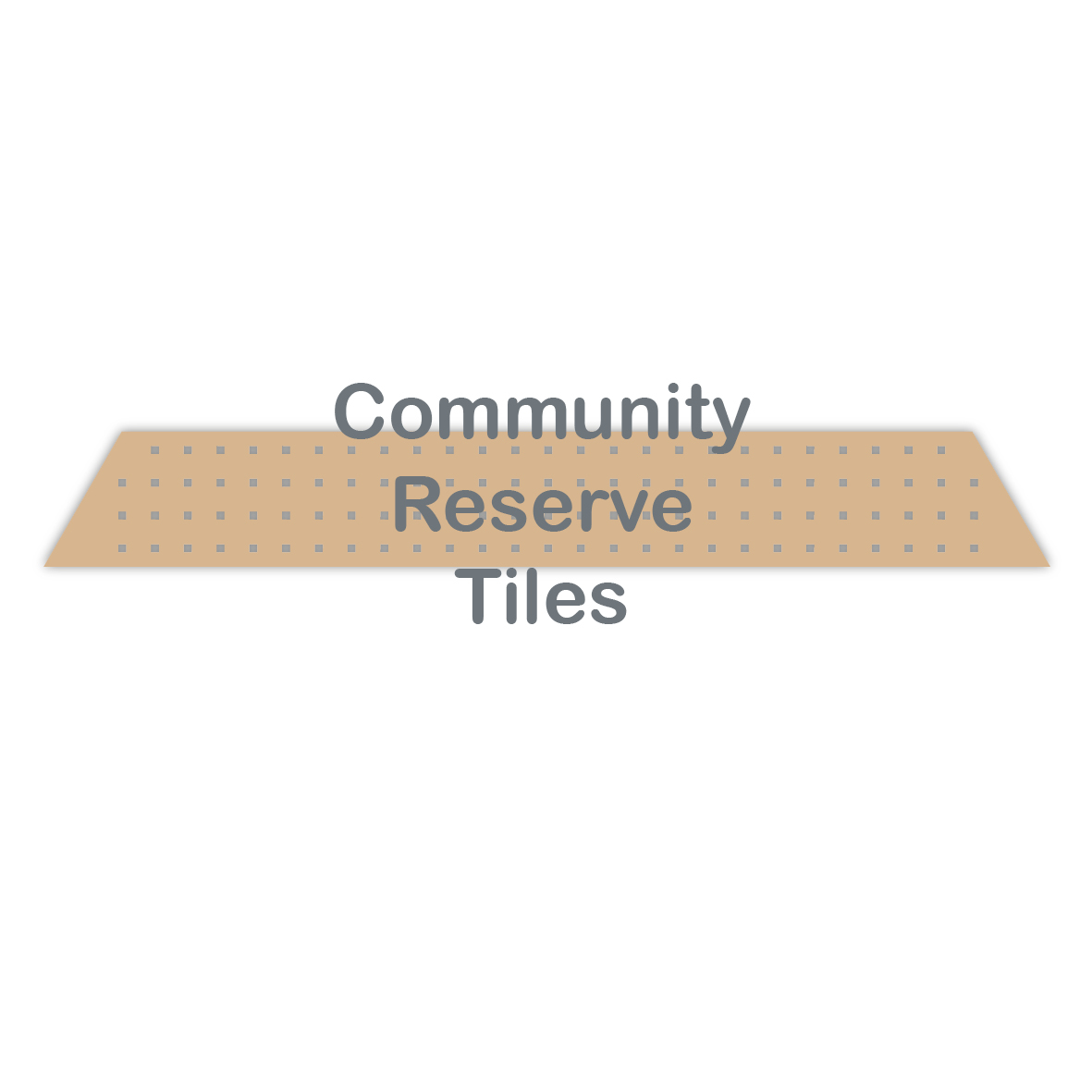 Download
Me-We game Community Reserve Tiles (pdf)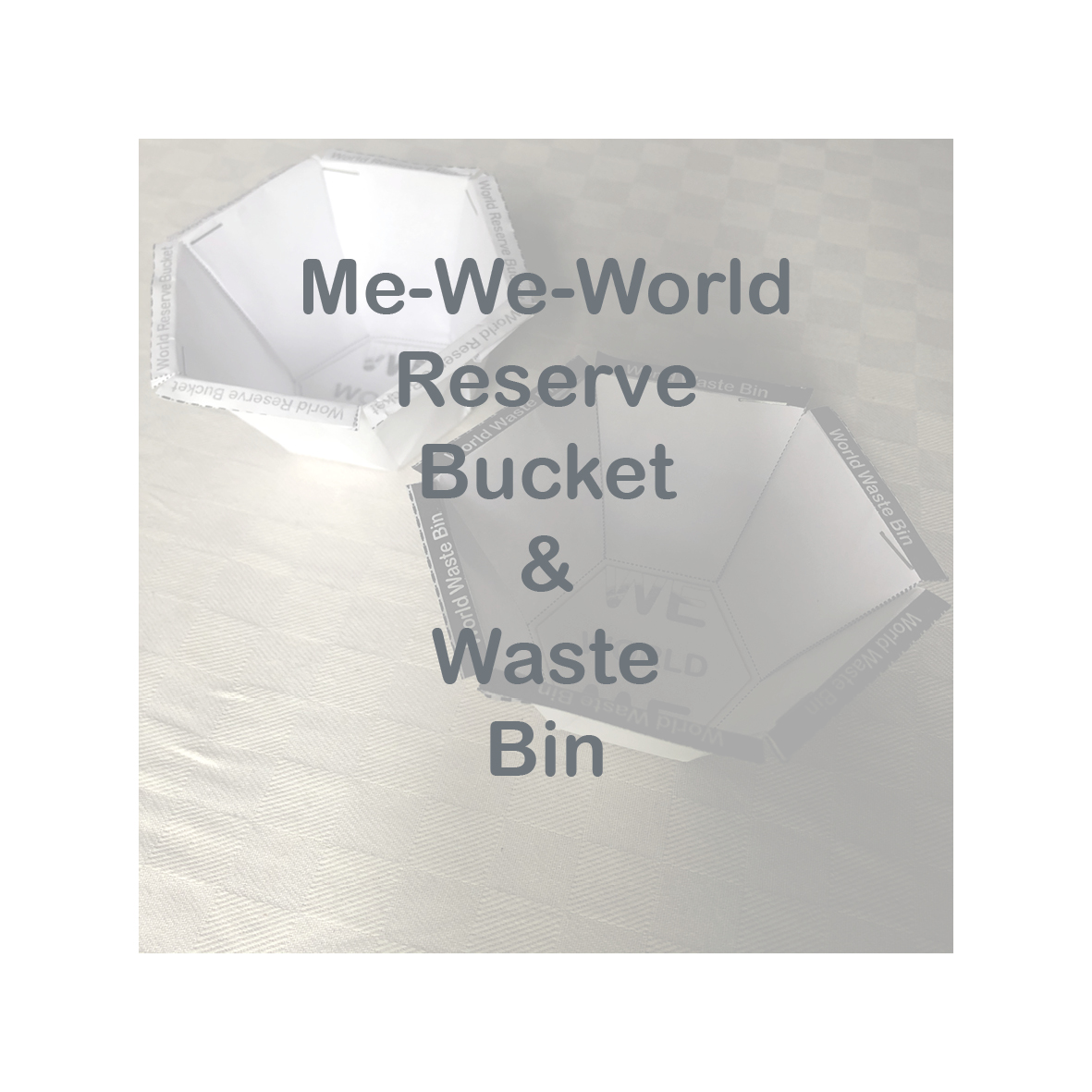 Download
Me-We game Reserve Bucket & Bin (pdf)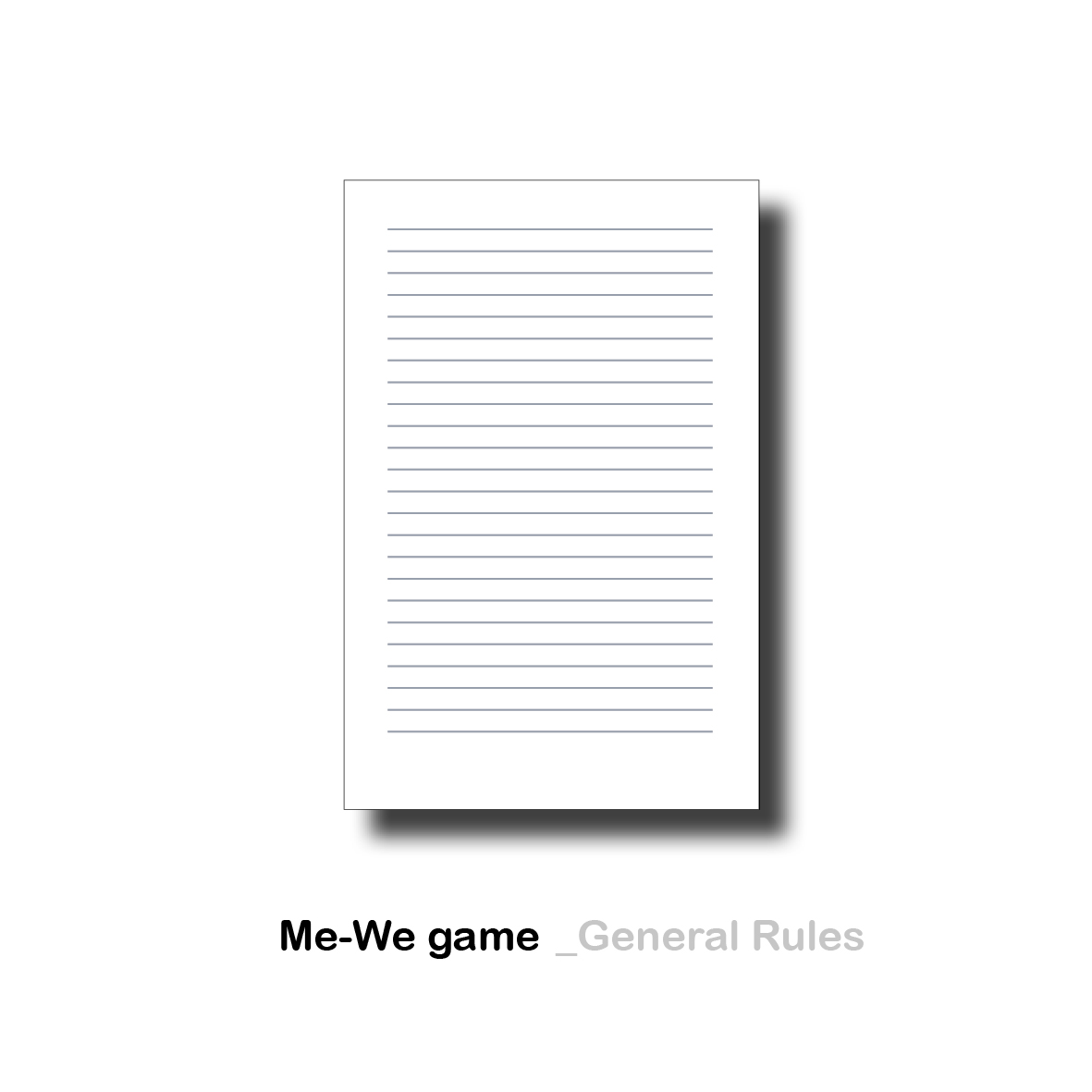 Download
The Me-We game General Rules (pdf)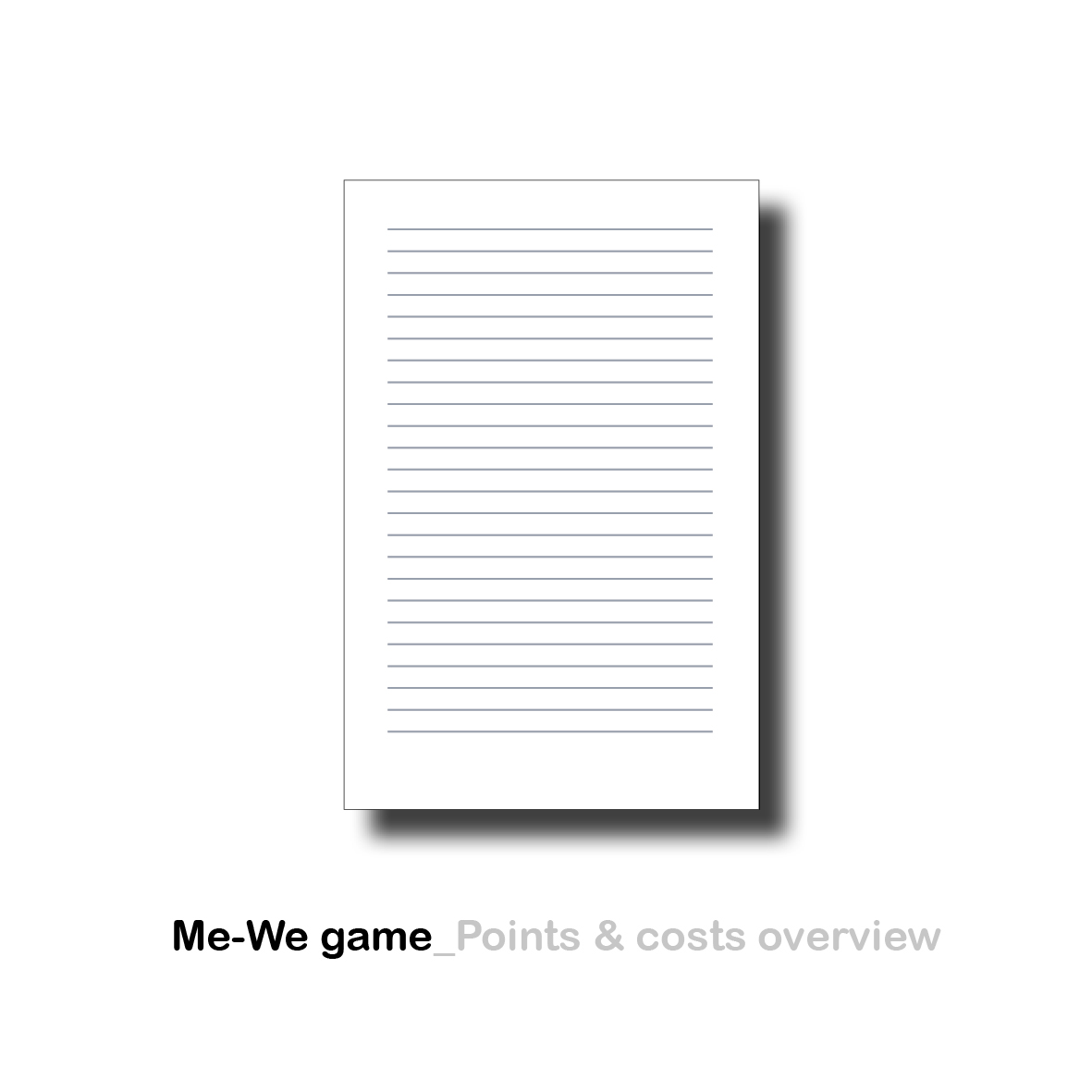 Download
The Me-We- game points & costs overview (pdf)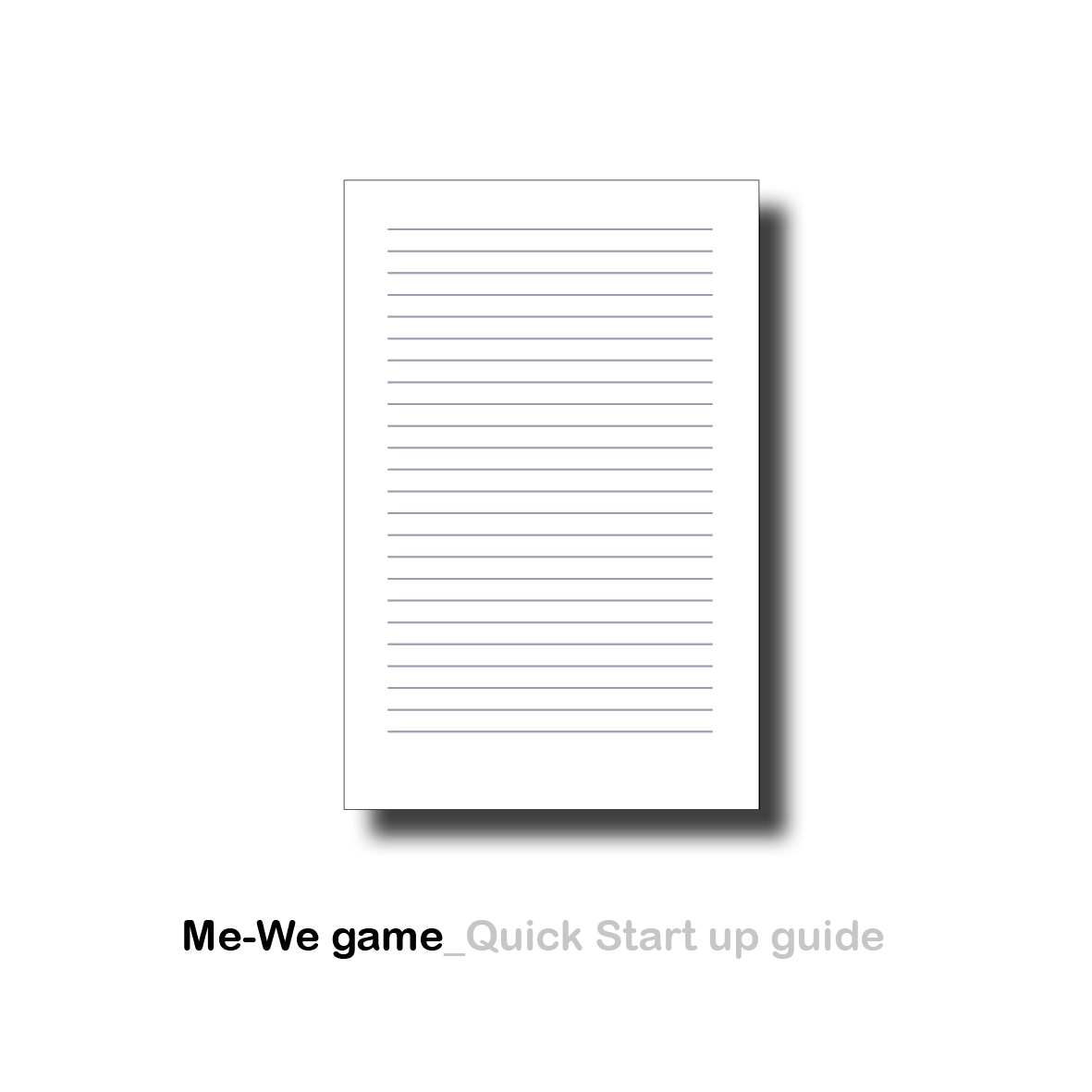 Download
The Me-We game Quick Start up guide (pdf)
 Me We Game Learnings
collaborative behaviour is based on human connection instead of collaborative techniques

organisations perform most efficient when organised in self-managing teams

any organisation is best served with the flattest organisational structure possible. [every manager or director slows]

down the organisational functionality

the community only works when it is based on equality and therefore operating at peer 2 peer-level

the community can only function if the resources are commons-based.

resources are used based on necessity instead of availability

becoming and being a community is a conscious decision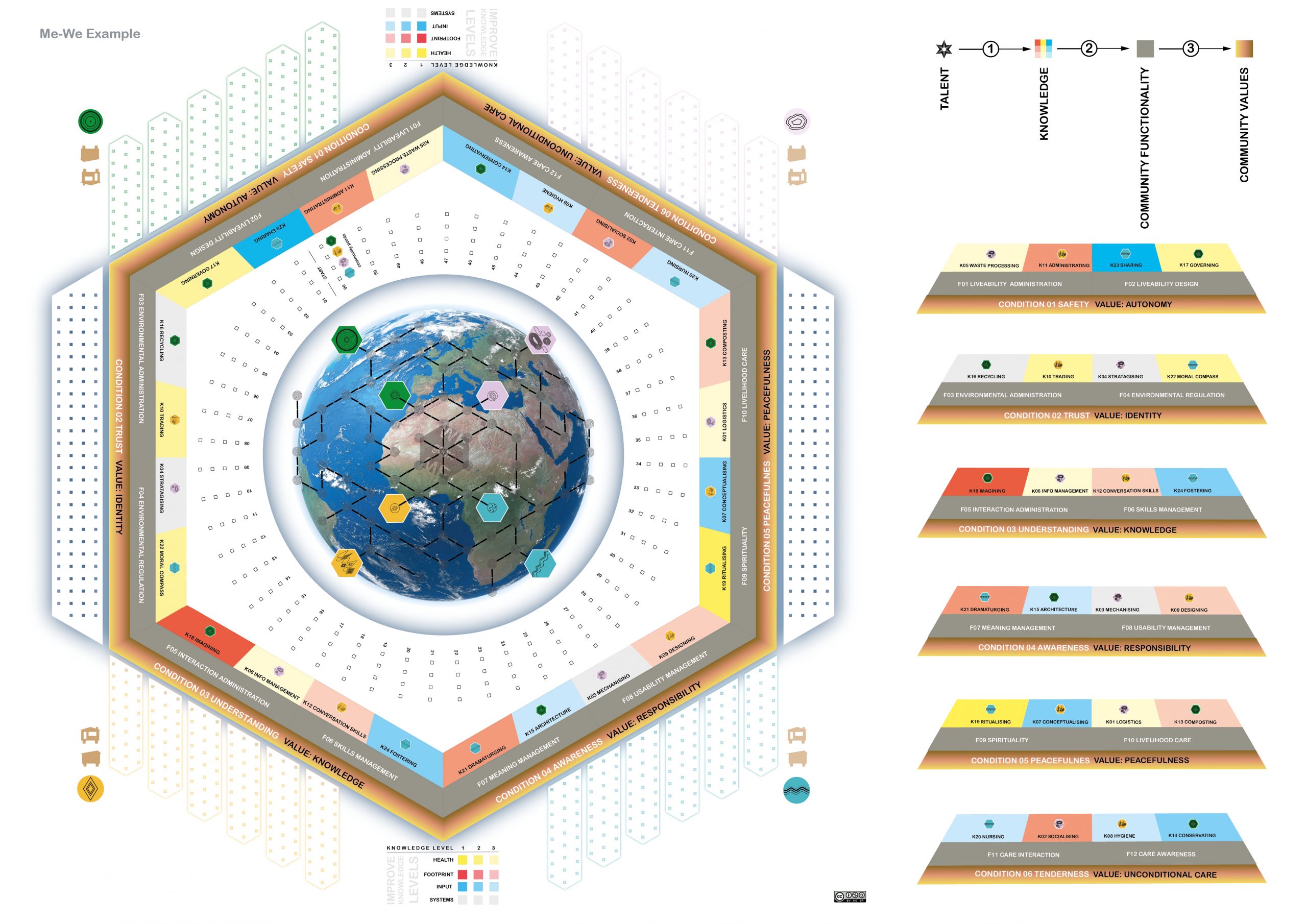 The basics of the game
The game is basically a salesman problem. The optimal route between destinations is influenced by 4 functionalities within the game. These are:
how much income does each player have personally and how do the other players do income-wise and where does the community stand in terms of income?

which knowledge is most necessary to collect at this moment in view of keeping the cost of maintaining the knowledge at a minimum and the benefits of the knowledge at maximum profitability for the whole community.

Keeping the balance between moving forward to moulding knowledge into functionality and qualities of the community to keep the cost of maintenance down and acquiring the necessary progress in keeping up with the cost of a growing community.

how the general state of the community is in terms of income, health and waste. The risk of depleting the (game) worlds resources is a serious issue when the community is getting traction on developing its knowledge. When people get sick and weigh on the community because they are unable to help in caring for the community and accumulate knowledge is a serious slowdown on the community's progress. And last but by no means least is the waste generated. People have to manage their waste in time. Which ties in directly with the available amount of resources and recycling them.
In this stage the there are only 4 knowledge pillars realised and we are at basic level of the game (sharing, Ritualising and Imagining) About Knowledge gathering download How to Improve the Me-We -World Booklet. (Frontpage)
Feelings that are touched by playing the game
When you are playing the game various feelings, beliefs will be touched. Some examples. You will:
Experience a completely different way of thinking about, looking at 

Community

Paying taxes

Commons

Co-creation

Governance

Democracy

(Personal) Leadership

The functionality of 

Knowledge,

Technology,

Care

Consensus

(personal) wealth

Wellness

Well-being

Quality of Life on a personal, communal and global level for all life forms

develop a whole new understanding of the value of technology in relation to the development and sharing of knowledge that happens within a community.

get a whole new way of thinking about the collection and management of income. The game shows that capital growth is functionless for the ins and outs of the community. Within the game, unbridled income is directly linked to waste of resources, stuff.

develop a different way of looking at dealing with the maintenance of livelihood, peoples health and creating and processing waste.

develop a different way of looking at illness and sickness of people in the community.

start looking differently at the accumulation of knowledge and the functionality for the community of that knowledge

become aware that living in a community is optimizing everyone's talents and ability to contribute to the work within the community that needs to be done.  

become aware that living in a community means paying attention to 7 areas of activities, how they are progressing and functioning in the community and how that progress and functionality contributes to the 6 qualities every community needs to be able to thrive. 

become aware of much more personal insights as well.
The 6 qualities (STUART) visualised in the game prototype 2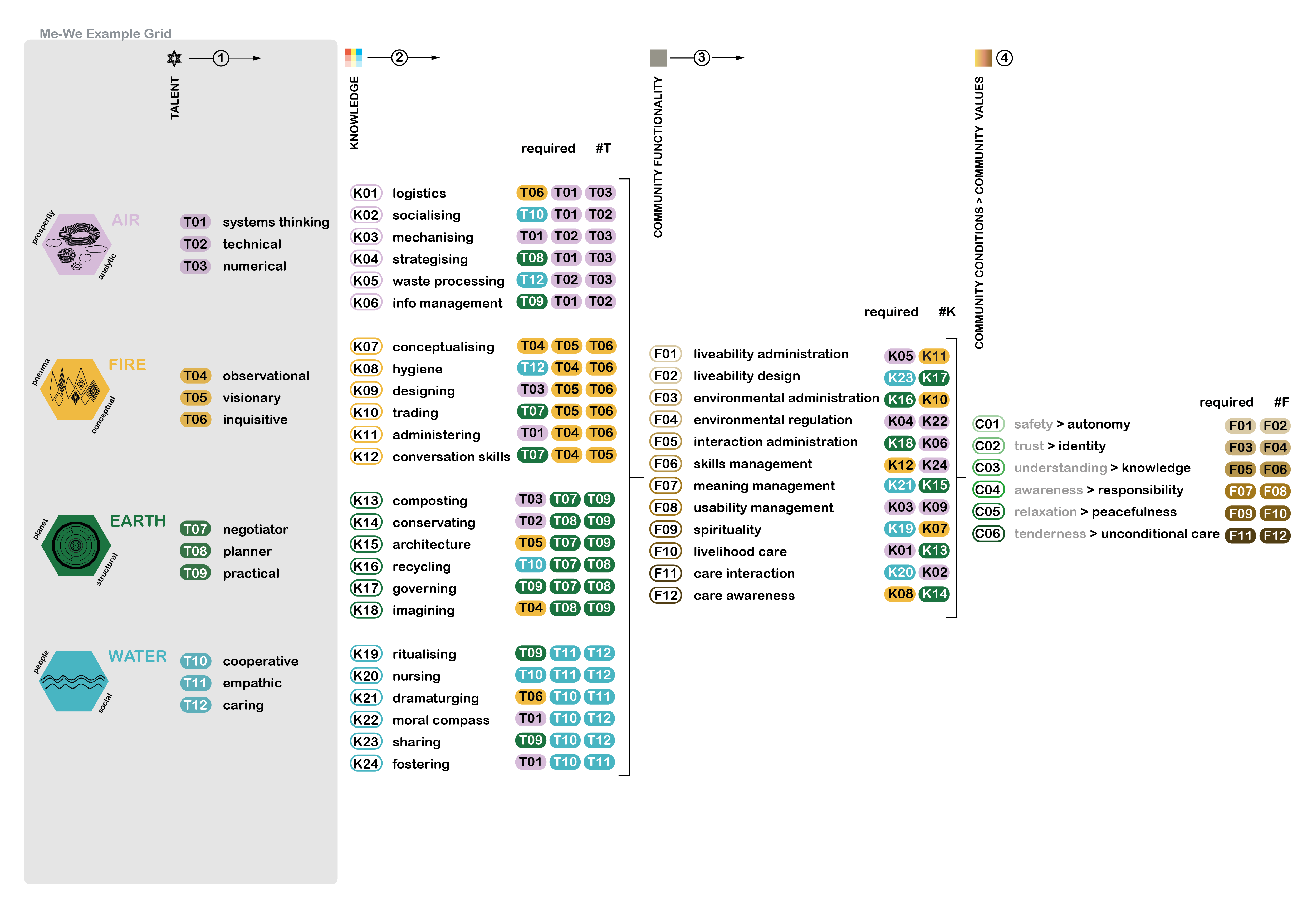 Why the Me-We game talks about knowledge development
In the Me-We game, attention is given to the development of knowledge. The knowledge that is ultimately transformed into technology in our contemporary society. Technology that is used daily in all kinds of tasks that we have to take care of the livelihood of all people in the community. However, the technology is tied to specific values ​​that limit the technology in its functionality. The technology in our contemporary society could be much more developed than it is at the moment. The reason for this brake on technology is the need to earn from technology. In the Me-We game, earning from others is completely absent. People do what they need to do to provide for their own livelihood. In doing so, nothing is put in their way. Everyone has access to all places where there is the possibility to work on the cost of living or processing the waste that is created by people living. Life simply means that 'waste' arises. That it is seen as waste is only because the knowledge development within the community is still in its infancy at the beginning of a community. Even if people in the current highly developed lifestyle we have in the West, would start a new community will have to develop functionality with each other that takes care of processing the waste and, above all, try to convert it into reusable sources. Every new compost heap simply needs a period of time to get started. Once the process is up and running, it continues effortlessly. Provided it is cared for in the way that it needs to be able to survive. This involves the knowledge needed to provide for and take care of the compost in a process-oriented way. The technology used is then less relevant. However, when clear, working technological advances arise in ensuring the composting process, a community benefits from the open and rapid sharing of that technological advance. Profit maximization is damaged by such sharing. For that reason, the game is about sharing talents advancing knowledge instead of technology and its advancements.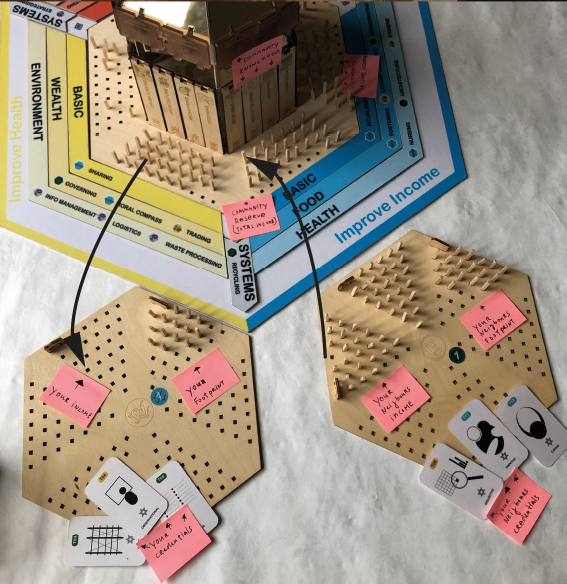 Explaining the relation between Livelihood tile and community reserve tile in prototype 5. Values and Knowledge is represented in the house upper part image.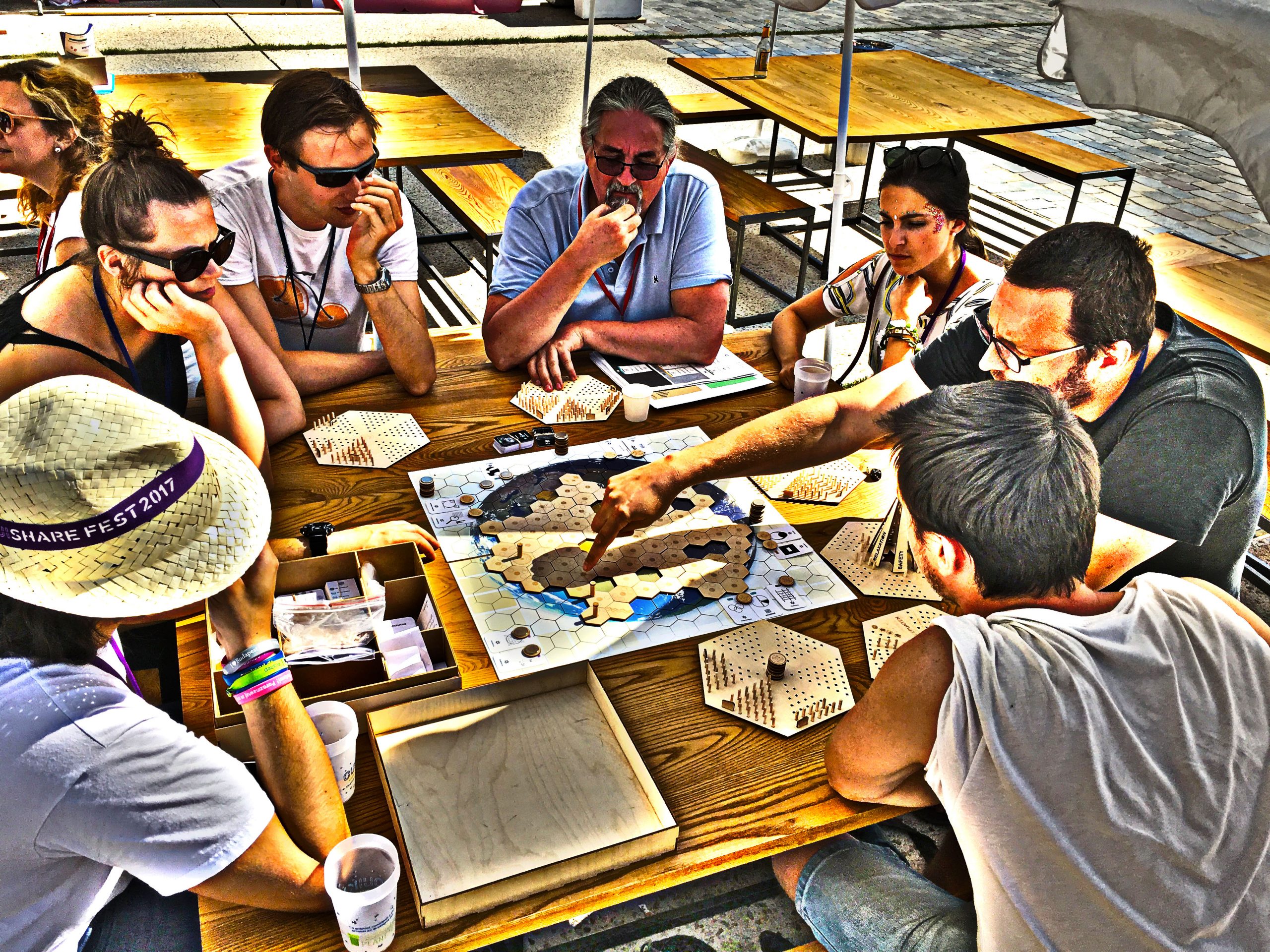 The Me We game at OuiShare Fest Paris 2017 (type 2)
About the game
The Me-We-game is an interactive tool to experience how to create and maintain a peaceful, prosperous community for all. Me-We-life at the beginning of the game has little to no quality of Life. Game life is a struggle. Little influx of resources, sickness, waste, disaster are everybodies share. Moving through the game world collecting resources striving to develop talents is where the players start. Bringing talents together to create knowledge is the initial game process.  With the progress of gathering knowledge, conditions improve. Expanding basic knowledge into more specialised knowledge makes game life easier. Clustering specialised knowledge into community functionality makes maintenance easier. Aggregating functionality into the qualities of Life makes the community sustainable. Which opens the gate to throwing the community party. The strategically and tactically keenest community builder to throw the community party first wins.
At FTA Future in the Making Brussels 2018 (type 3)
Unique to the Me-We-game is that no player can win on his or her own.  Winning conditions for the players only occure after the community goal has been achieved. The players have to collaborate to be able to achieve the community goal. Also unique is that players are faced with moral dilemmas within the game based on the concept of the Me-We-world. Based on that concept no player can be eliminated from the game. As is the collaboration. The Me-We-world concept perceives any random group of people as automatically brought together in a community. Either people create a fully qualified community together or live in more violent circumstances. No one can exempt him or herself from being part of the community because one is alive and living. Whatever a person does, it impacts the world the community is living in. The Me-We-game makes it possible for people to experience how their behaviour (within the game) impacts the forming of a fully qualified community. Which creates the basic experiences for extrapolating that behaviour into the day to day world.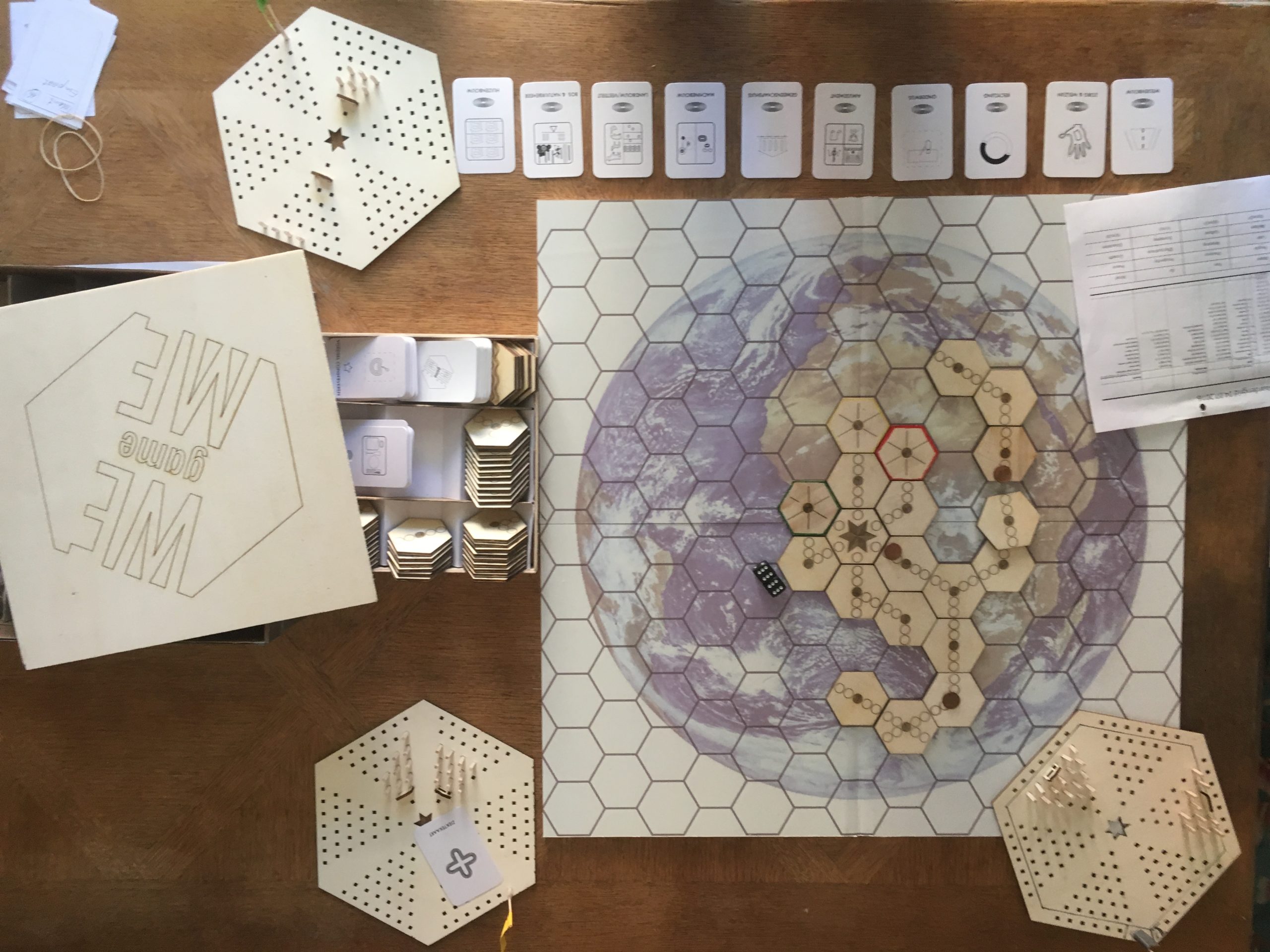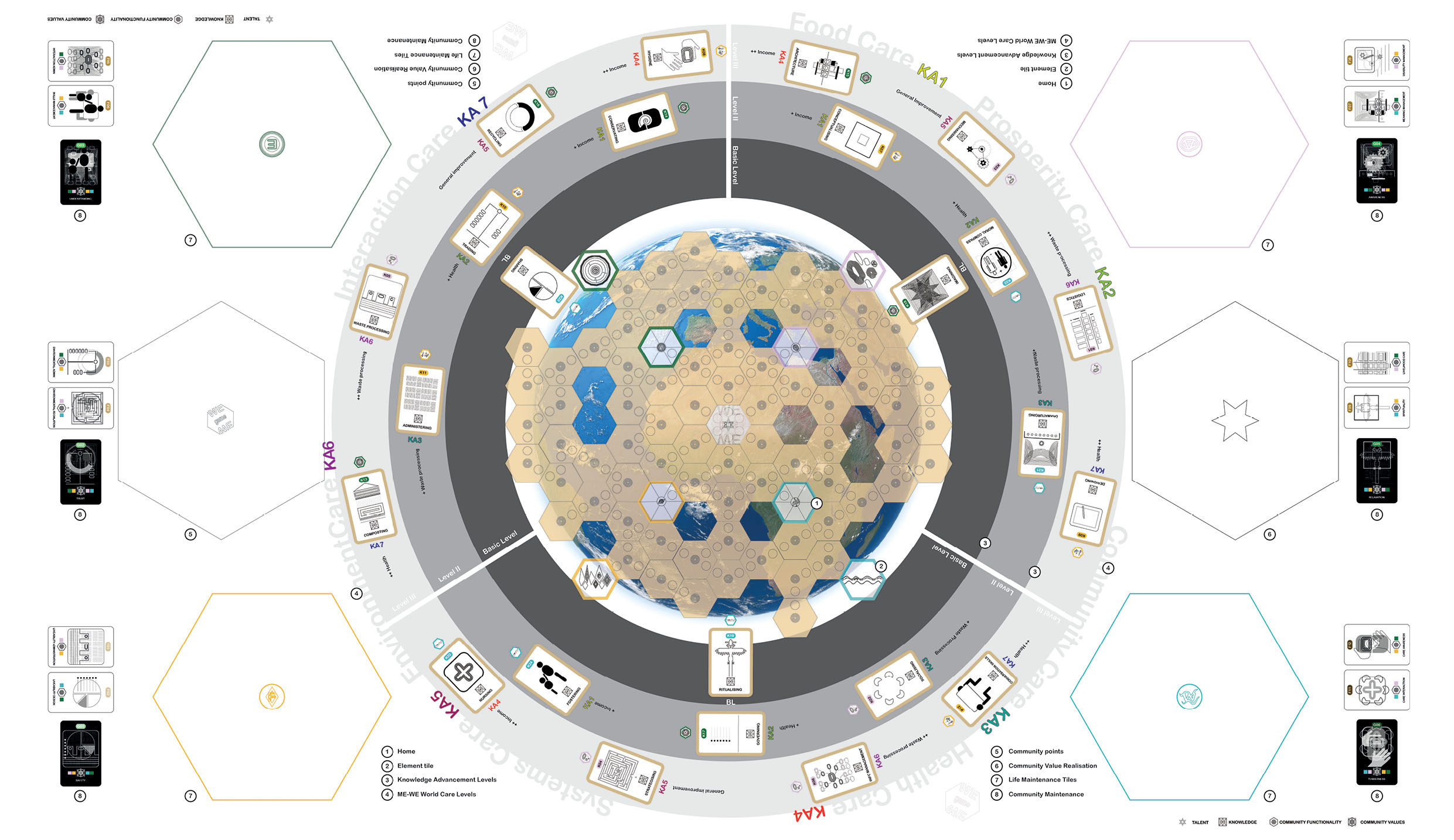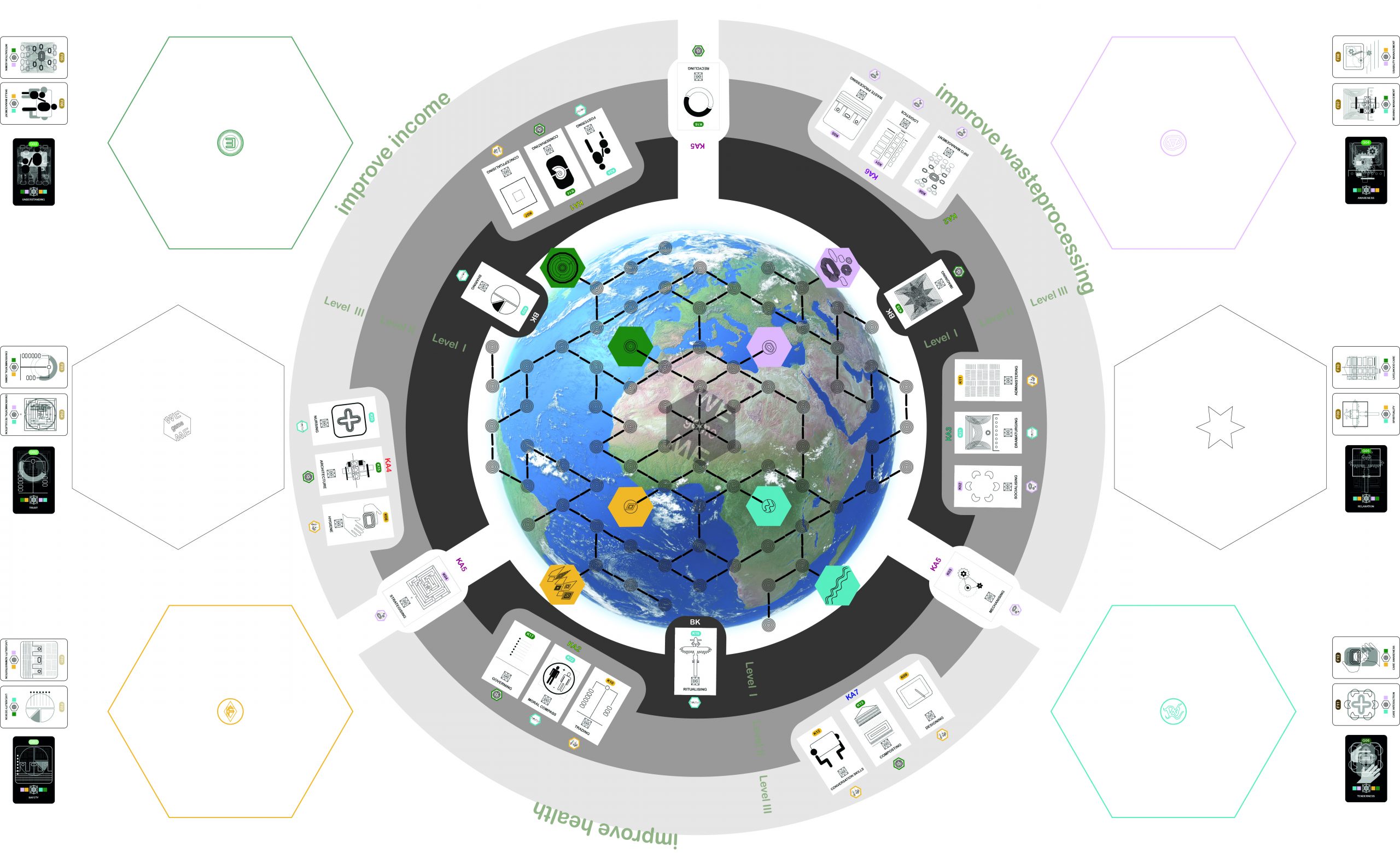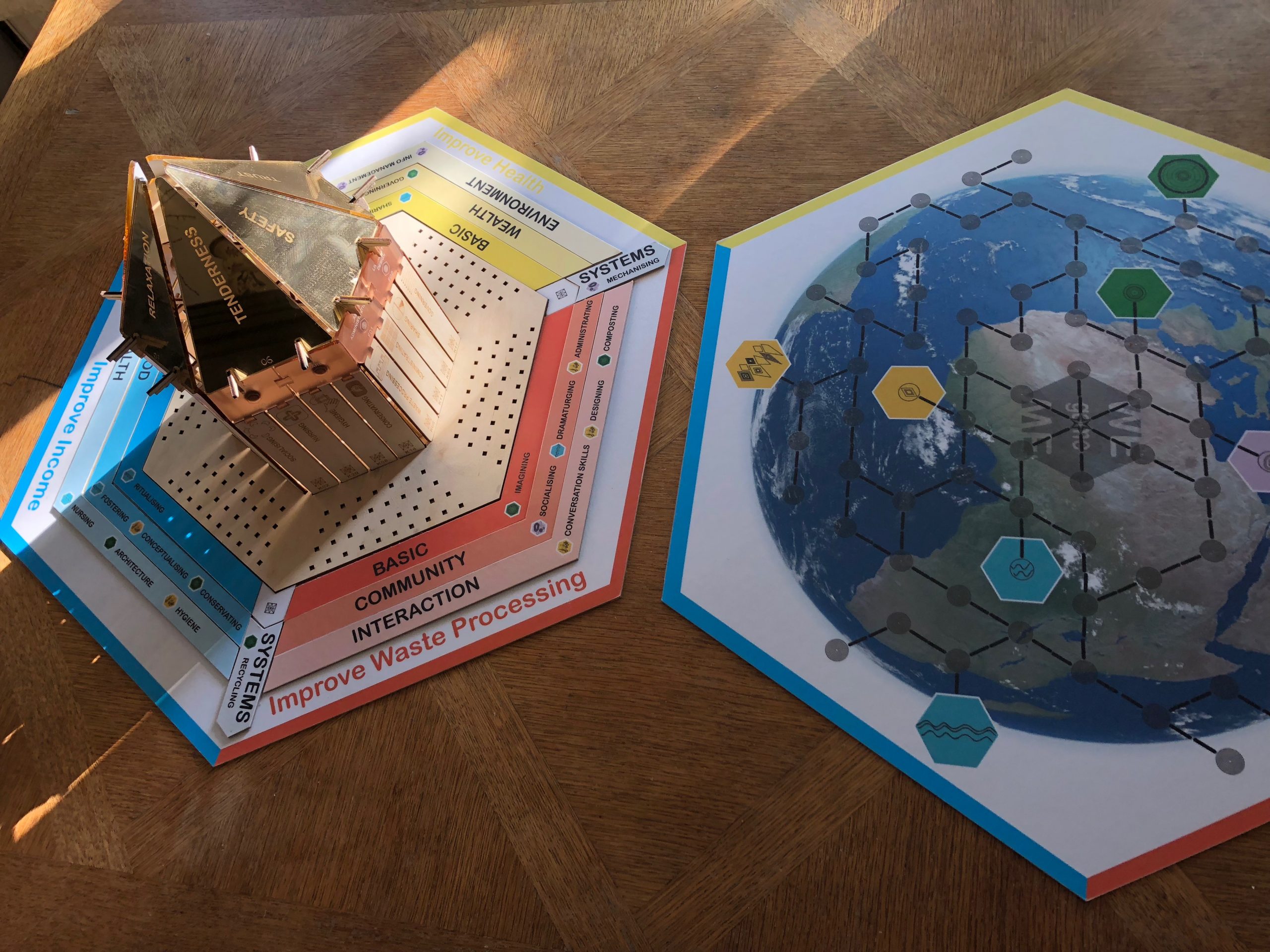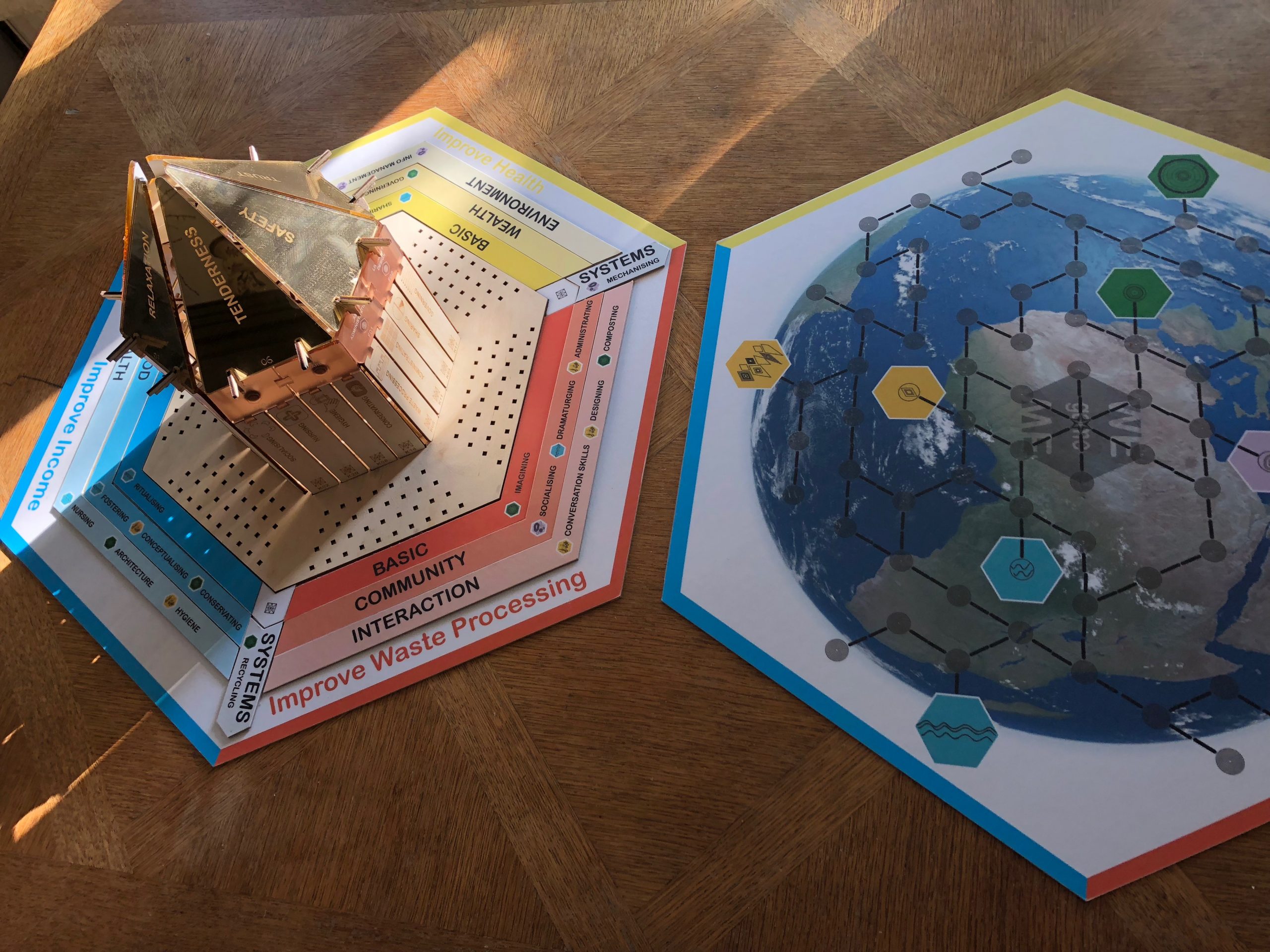 Prototype 5
Update July 2018
Changing the ME_WE game table back into a game board design again. We decided to create a bigger community house because your vision of the world is as big as the community you live in. It also makes the game and te proces of getting the knowledge for the community more tactile. We also got rid of almost all the cards. Knowledge, Functionality and Value are represented in the community house pieces. Knowledge clusters are represented in coloured rings around the house. If the rings grow the house is getting build!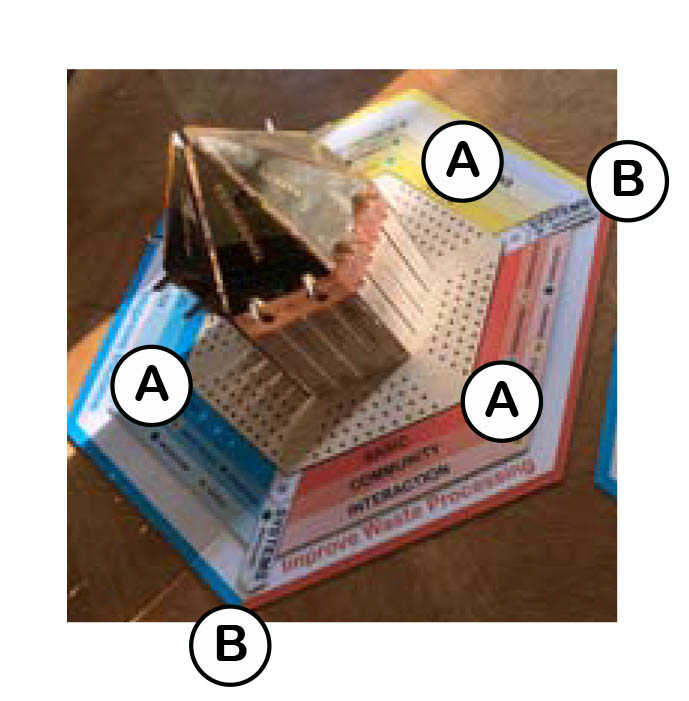 Parts at game board community
A. Community Knowledge Clusters (3x)
colours; red, yellow and blue.
B. Systems 3 3. Parts at Community House C. Knowledge Walls 24
D. Knowledge Cluster Walls 12
E. Values roofs 6
F. Roof frame 1

1    Earth Game Board
2    Game Board Community
3    Community House
4    Tribe tiles 4
5    Community Point tile
6    Talent cards
7    Disease cards
8    Cost overview tickets 4
9    Construction Book
10  Level book
11 World Reserve Bin
12  World Storage Bin
13  Community level cards                     
14 Tokens                                         
15  Pawn                                                 
16 Cottage                                       
17 Barn                                             
18 Pawns 12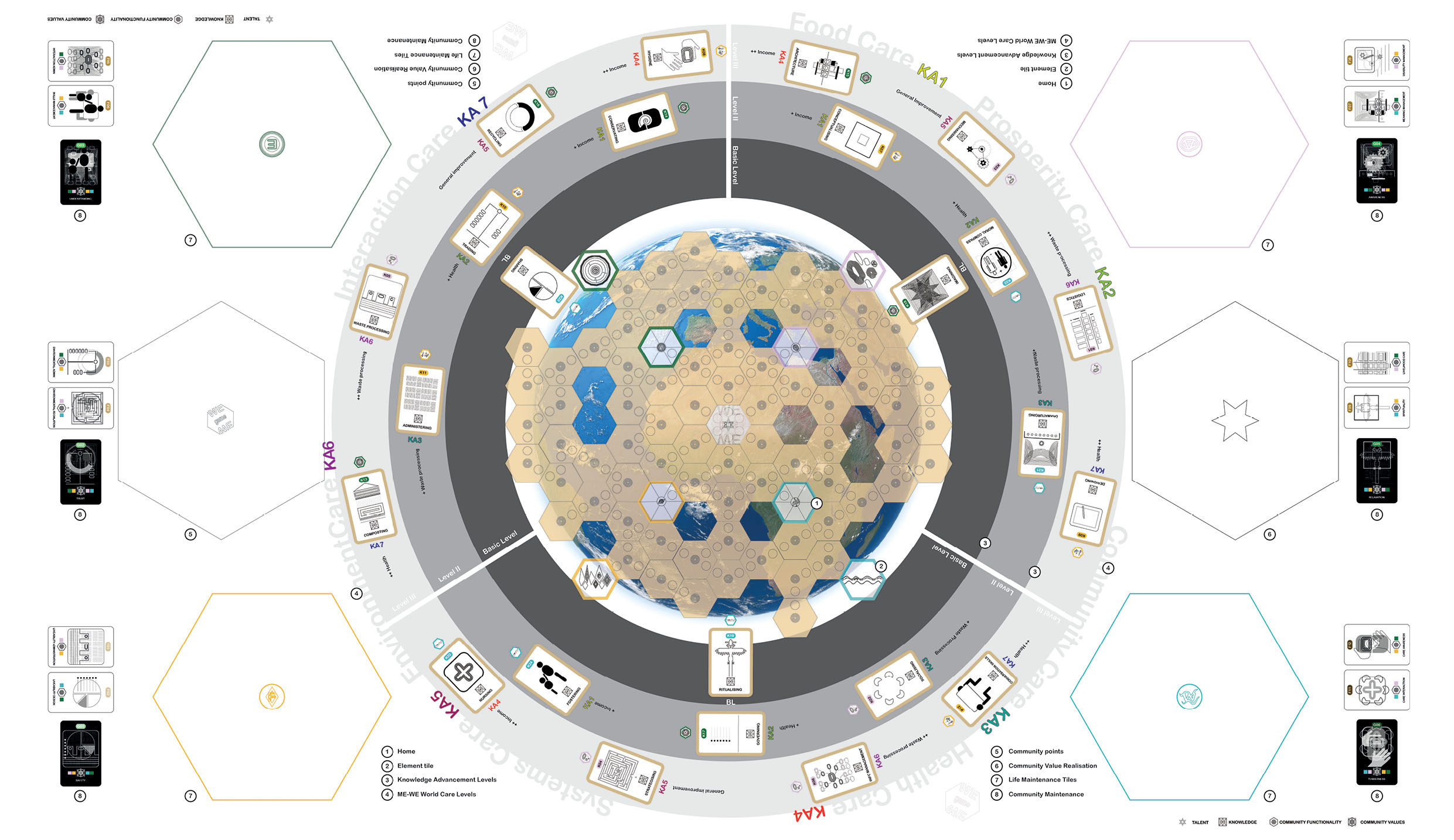 Prototype 3 | 2018
The game as a training tool is limited in its functionality in comparison to the current full flexible board game. The idea behind this is that the training situation is more learning based than game based. For instance, the implicit travelling salesmans problem needs to be visualised in the training environment for the trainees to be able to discuss their time and effort investment. This discussion will be connected to the current day to day situation of the trainees. The discussion, learning experience that would derive from a flexible game board takes up to much training time to prepare within the game to be of value.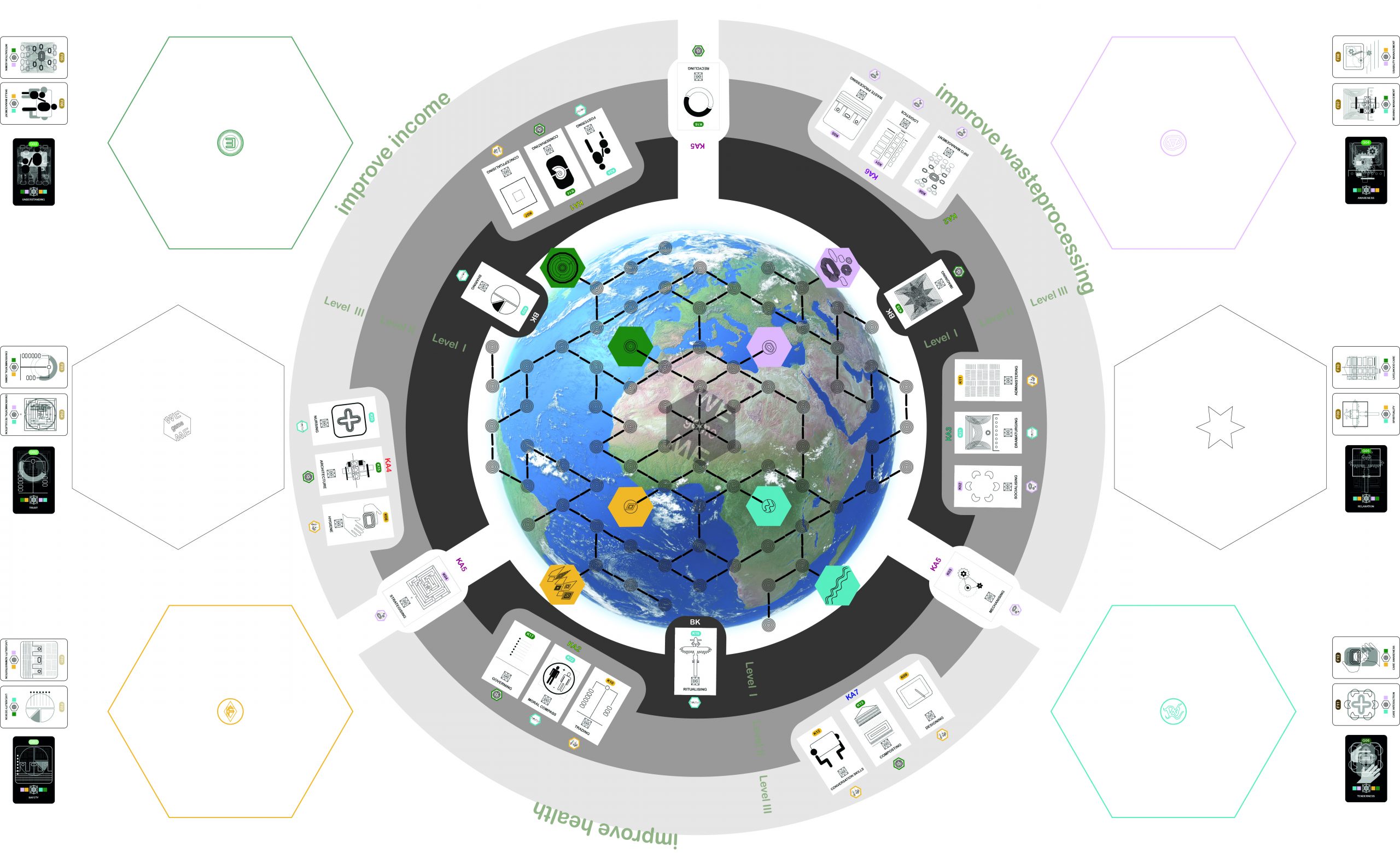 Prototype 4 | 2018
The game as a training tool is limited in its functionality in comparison to the current full flexible board game. The idea behind this is that the training situation is more learning based than game based. For instance, the implicit travelling salesmans problem needs to be visualised in the training environment for the trainees to be able to discuss their time and effort investment. This discussion will be connected to the current day to day situation of the trainees. The discussion, learning experience that would derive from a flexible game board takes up to much training time to prepare within the game to be of value.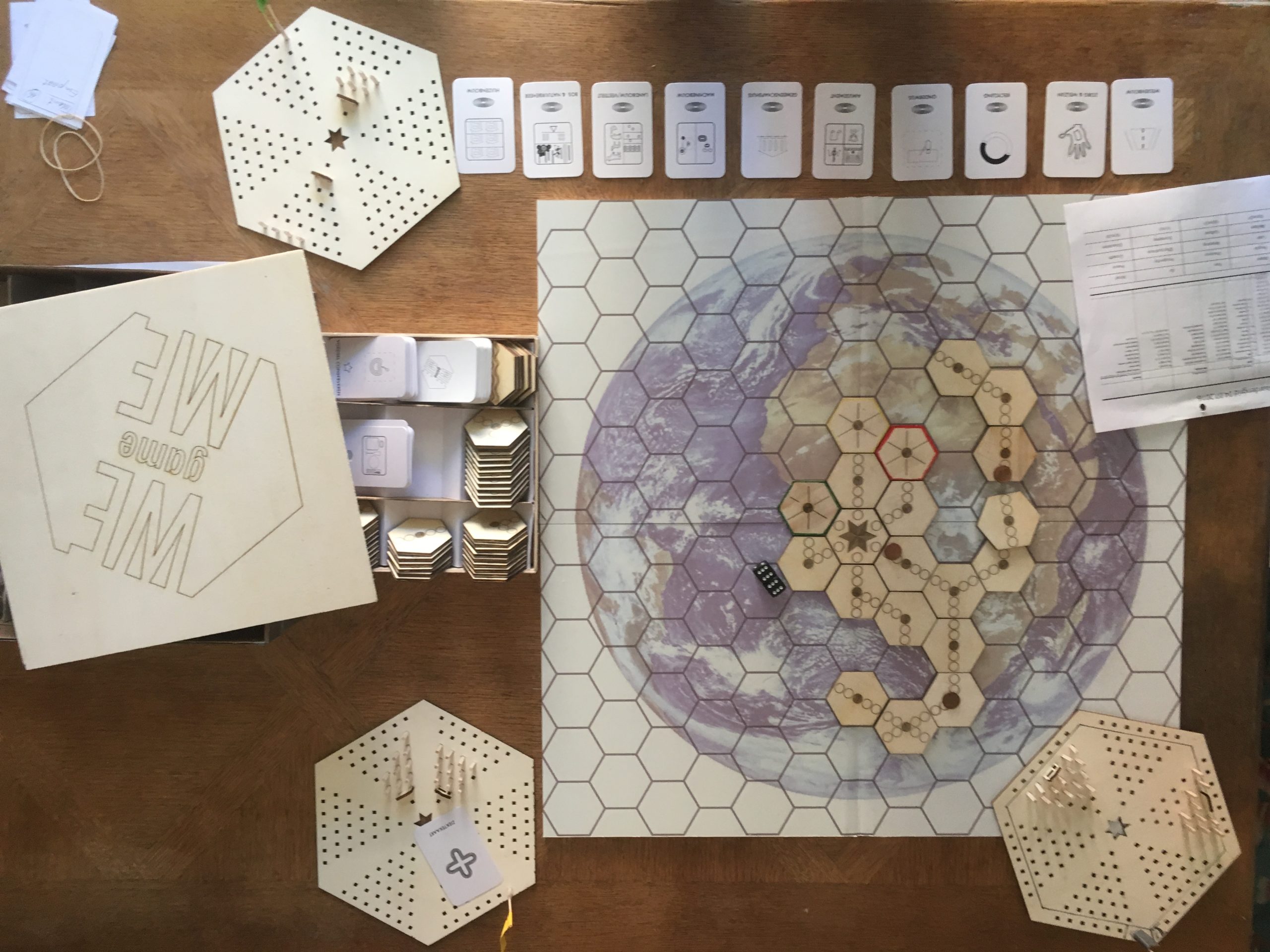 Prototype 1 | 2016
This is the first prototype of the Me_We_game. Not all the parts are developed yet. We used this bord to test our game concept.
Prototype 2| 2017
This prototype was made as a de luxe prototype with a full flexible game board. The tiles are magnetic so they don't move ones the are laid out. Based on this prototype a lower budget version of the board game will be  developed in the future.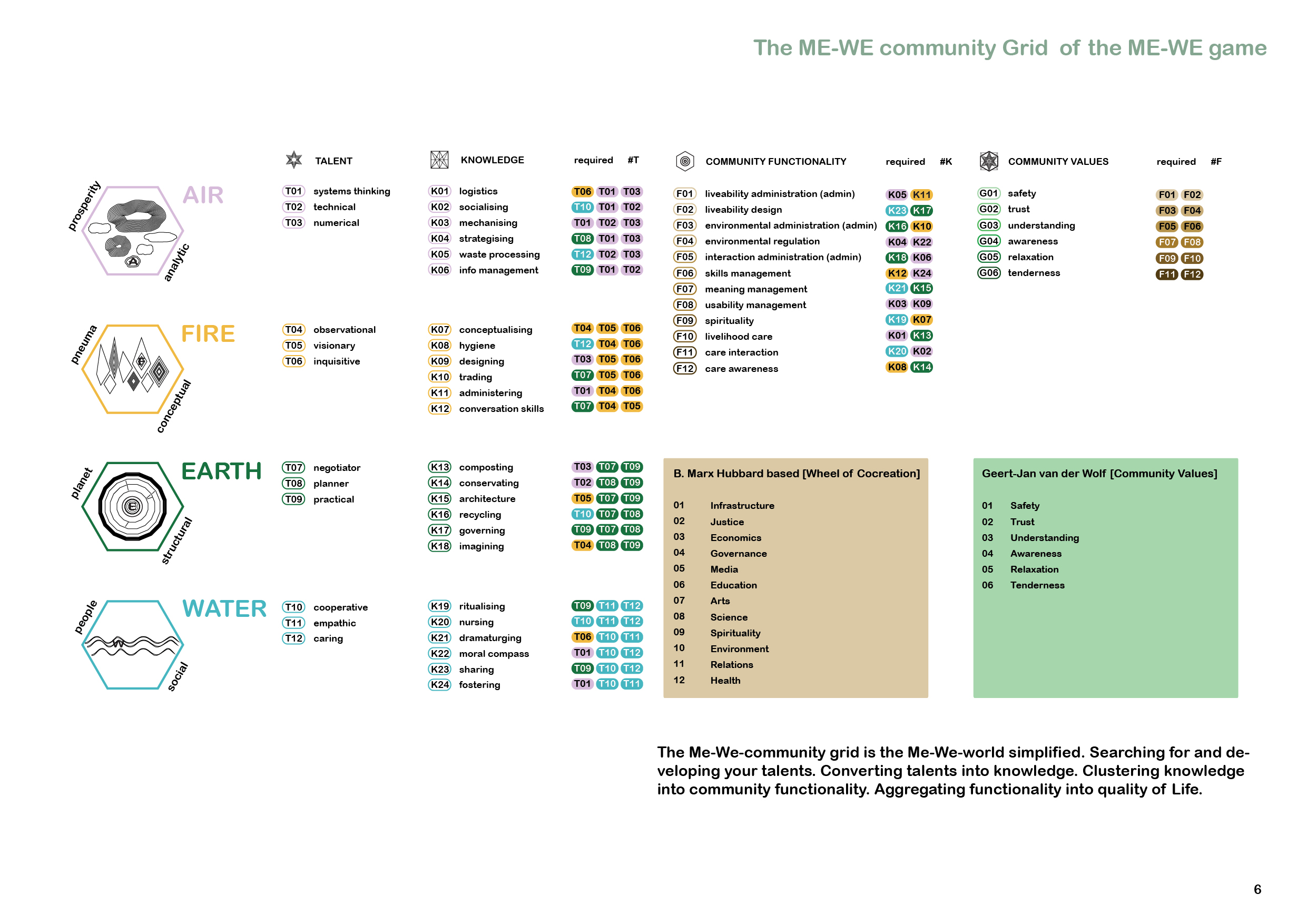 The Me-We Postulates
1
Life needs to thrive, flourish to persist.
2
Every living being has an inalienable right to exist.
3
Any living being thrives when it experiences and has joyful, peaceful freedom.
4
To create and maintain a state of joyful, peaceful freedom a living being needs plentiful wellness and well-being.
5
A community that creates and maintains, supports joyful, peaceful freedom for all living beings has 6 qualities 

*

(S.T.U.A.R.T.)
6
The community comes into existence based on the aggregation of all human actions.
7
For humans to be able to contribute to and participate in creating and maintaining a
the joyful, peaceful free community they need to (learn to) behave and think heart intelligent.
* 
Safety
   Trust
   Understanding
   Awareness
   Relaxation
   Tenderness
The world behind the game 
By Geert-Jan van der Wolf Me-We game philosopher/ developer 
Introduction
The Me We game is a board game for up to 4 people. 12 players. The game was developed from the need to make clear that it is possible for people to create a world together in which people can live in joyful, peaceful freedom. While enjoying that freedom, they live in the abundance of well-being and prosperity. Well-being and prosperity that is present every moment of the day. For many people, this is a dream, a utopia. Where both dream and utopia evoke a negative experience. Dreams are deception and utopia, well, it's just unrealistic.
We, as makers of the Me We board game, disagree with the generally used way of thinking about the world and people in particular. We believe it is possible. By playing the game, you can experience it for yourself.
There is a difference between experiencing and understanding. The difference is that you can experience things without knowing exactly what you are experiencing. Which in itself is fine in our opinion. For example, you can simply experience a film. By no means do you have to fully 'understand' a film to find it a fantastic, hilarious, incomprehensible, crappy or brilliant film? You can just experience the film. We believe seeing that movie changed your life. No matter how small that change is. We believe you can speak of your life before the movie and your life after the movie. In order to clarify how your life has changed now, at some point you will have to give words to the "Why?" you like the movie … This involves knowledge and expertise. Then knowledge areas such as cinematography (how do I use images to tell stories), dramaturgy (how do I tell an appealing, entertaining story), psychology, sociology, peasant understanding, awareness of one's own self-image, etc. are needed to make that clarity, to gain.
It is exactly the same as the game. You can play it. After playing you will find the game fun, exciting, entertaining, stupid, worthless or start again right away. So addictive. You don't have to do anything to gain that experience. However, if you want to clarify exactly why you think it is… you will have more to investigate. One of the things you have to investigate is "What worldview does the game actually use?" This text, this book (you), tells you about that world view.
Preface
A world view is comprehensive when it comes to the world as we know it as people. However, a world view is part of something. It is part of a life vision, a philosophy of life. A world view is bigger than the world because it also says something about the world outside the world. We are used, at least in the West of the world, to look at our lives and what happens in them as concrete, real events. Houses, food, people, clothes. All tangible and visible. We even recognize intangible things like poetry. However, poetry is 'tangible' again because it consists of words in a language. Sounds we can hear, the language we know. That's why we (Western) people have a hard time with feelings. We will all effortlessly recognize that being in love, being angry, being happy affect how people are. That it affects how they act. But what exactly are feelings is a question. It is a question because we cannot see, smell or touch feelings anywhere. Medical technology has come up with all kinds of things through which feelings can be deduced from all kinds of changes in human physiology. Yet it remains impossible to take a photo of, for example, falling in love. At the same time, that is also incorrect. There are now many photos of people who are clearly in love or who love each other a lot. What we see are people who sit, stand, touch, and many more of those things in a certain way. When we hear all those signals, attitudes, words, we know: "They are (radically) in love!". Yet we don't "see" falling in love. Nor can we grab it with those people.
This digression about falling in love, about feelings, aims to tell that the creators of the Me-We game believe that feelings are important. Their importance lies in the influence they have on how people behave. The Me-We world is all about how people behave. That is the basis on which everything is based. The concrete visible behaviour of people. More on that later. Before the Me-We world can be expanded, it is important to mention a few other things. It is about insights that we as humans have gained. Gained because we have scientifically searched for it.
One of the scientific insights that play a role in the worldview of the Me-We world is Chaos theory. You may know this theory from the commonly used example: the butterfly effect. In that example of the Chaos theory, it is said that a butterfly in Mexico flies up from a flower. This event brings an air swirl into the air that eventually leads to a hurricane in China. In essence, this theory says that every event with every other event that follows is connected by cause and effect. However, it is so intertwined that it is (still) impossible for us humans to find the first cause of an event. Where the first cause was also a consequence of a similar chain of events. The makers of the Me-We game also consider this theory applicable to human behaviour. Everything people do affects how the world is right now.
Chaos theory also influences in another way. According to the creators of the Me-We game, all things people do are of equal importance. However small, an action by a person can lead to major consequences. We cannot determine that in advance. The consequence of this mindset is that all people are equal. That all people matter.
A second scientific insight that the makers of the Me-We game deem of great value are Complexity Theory. The complex comes from the Latin word complexus. Complexus means composite or intertwined. Complexity theory is used, for example, to understand the behaviour of birds flying in a flock. Complexity theory has given us human insight that every bird does not take the entire flock into account at all. Each bird only takes into account his / her neighbours. By adapting to this and also using their own flight path, the birds start to move as they move. Only from a greater distance do you see completely different shapes and movements. This mechanism is something that the creators of the Me-We game believe also applies to people in a community. People don't consider everyone else in their community. They take into account the people they count as their "neighbours". These can be physical neighbours, more likely they are their imaginary neighbours. People from their family, relatives, association, work, school and other groups that people count themselves to. In fact, people move differently within different groups. The behaviour of every person in the group creates group behaviour. Group behaviour is like a flock of birds. You can see, experience that behaviour. It is the composite, intertwined behaviour of all those people together. That composite behaviour of the group can again be the initial cause of a chain of events through Chaos theory.
The Theory of Complexity once again emphasizes the importance of the individual. Every person in the world matters. The behaviour that this person display influences the world as it is concrete. No one excluded.
These two scientific insights that we have acquired as humans are elementary in the Me-We world, the world behind the Me-We game.