Me We World

 |
The Me-We frame
Inspire people to imagine and explore new existential concepts.
On this page, we give an overview of all the different connection of the complex life system of the Me-We world
*Please scroll all the way down to see all the content of this page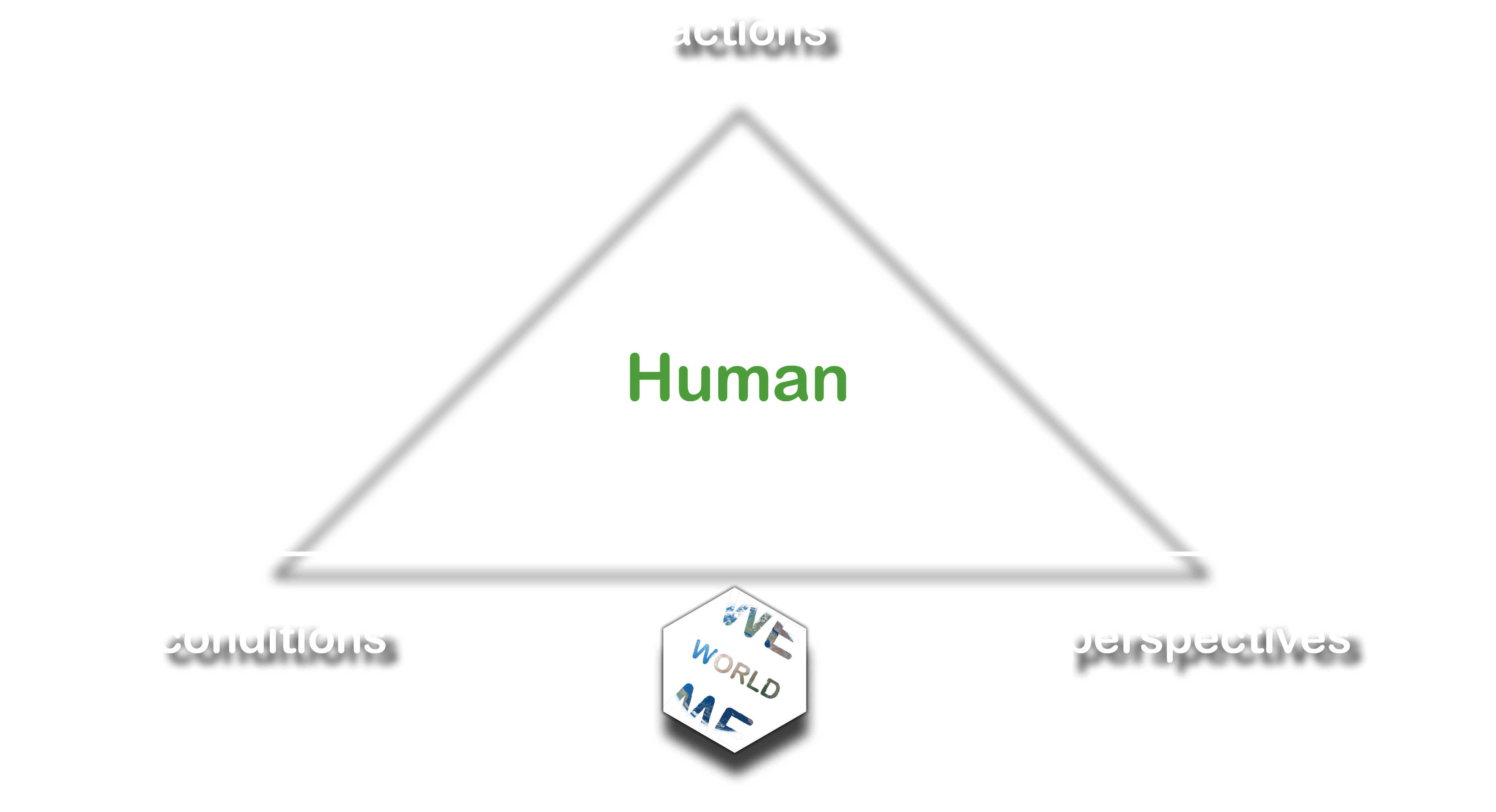 About the Me-We Framework
People live in different eras and in different cultures under different conditions. Life is a dynamic interplay of different factors. In our Me-We frame, we distinguish 3 aspects from which life is lived. First, we mention Human Conditions. This is about the emotional state in which we find ourselves as humans under the influence of our fellow human beings and our living environment. Second, we mention Human Perspectives. This is the perspective from which we compose our worlds of meaning which determines what we find important in our life. Thirdly, we mention Human Actions. These are human actions that we engage in during our lifetime. We describe these actions in the Me-We frame as ritualizing, sharing and imagining. Below is an explanation of each part of the Me-We frame starting with Human Conditions.

Human Conditions
In the Me-We vision, we believe that the quality of life is determined by 6 conditions. By examining these conditions and how they relate to various complex challenges in everyday life, we gain insight into how we as a civilization can deal with them. While it is inconceivable that an ideal solution or scenario can be devised that will satisfy everyone in the community equally, it is all the more important to generate empathy within a community. With Me-We empathy mapping, we map how we relate to the life qualities; Safety, Trust, Understanding, Awareness, Relaxation and Tenderness [S.T.U.A.R.T.]. At every S.T.U.A.R.T. quality, we strive for a goal in which there are always 2 aspects that need to be monitored. Below you find a link to the Me-We contextual sheet in google form format (survey). The Empathy map gives an overview of the S.T.U.A.R.T. life qualities and connected goals.
The Me-We Human Conditions | contextual sheet
One of the most powerful tools from the Me-We frame is the Human Conditions / Empathy Map. This instrument is based on the intuition of Christian Pankhurst (Heart IQ) who describes 6 aspects of life in human relationships to experience peace as a person. These aspects are Safety, Trust, Understanding, Awareness, Relaxation and Tenderness in an abbreviation: S.T.U.A.R.T.
The Me-We team has further elaborated these aspects of life and interpreted it according to its own insights in a model in which various topics and problems/challenges from daily life through the S.T.U.A.R.T. can be evaluated.
The Me-We Human Conditions | contextual sheet
If you want to evaluate your life condition through Empathy mapping click below.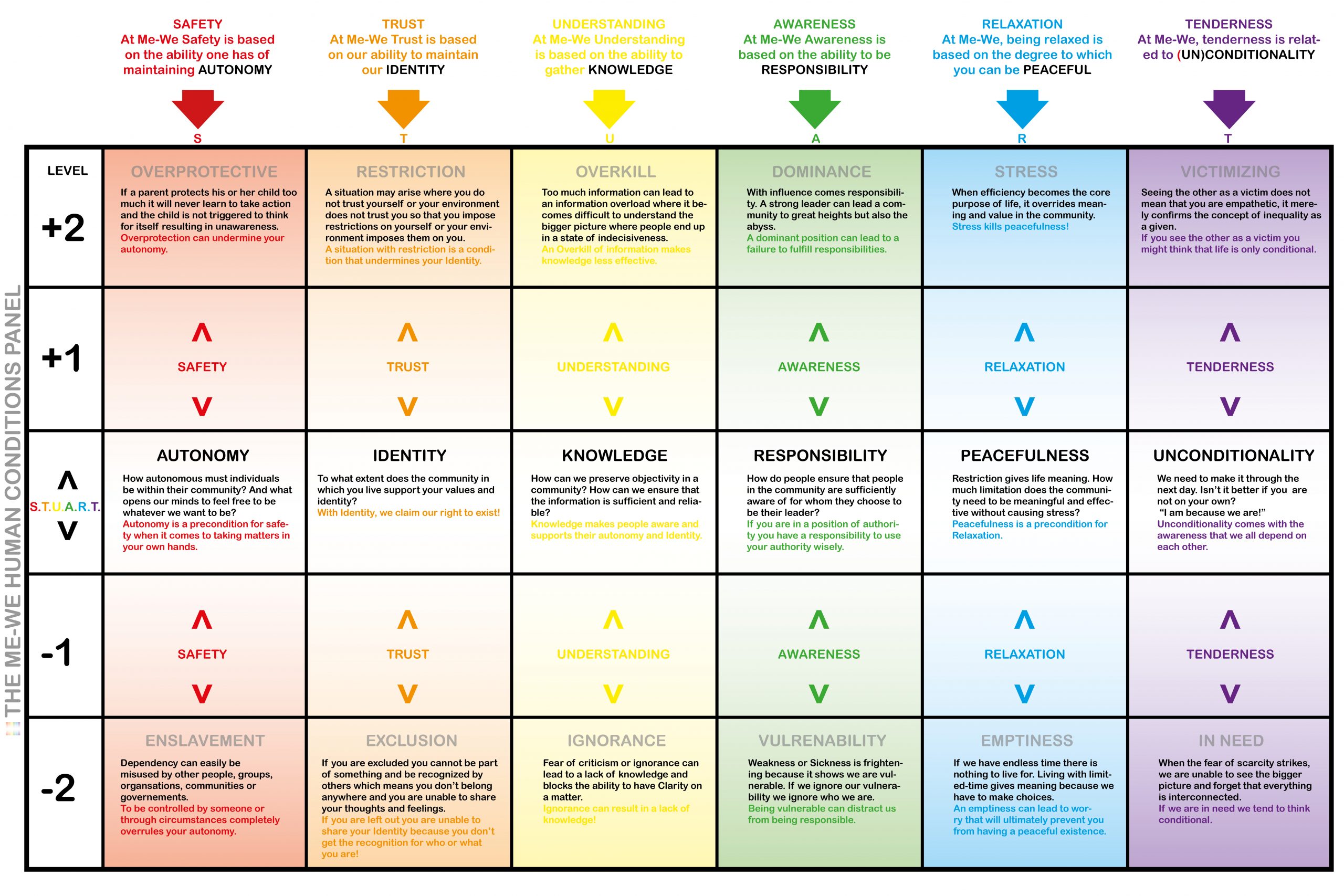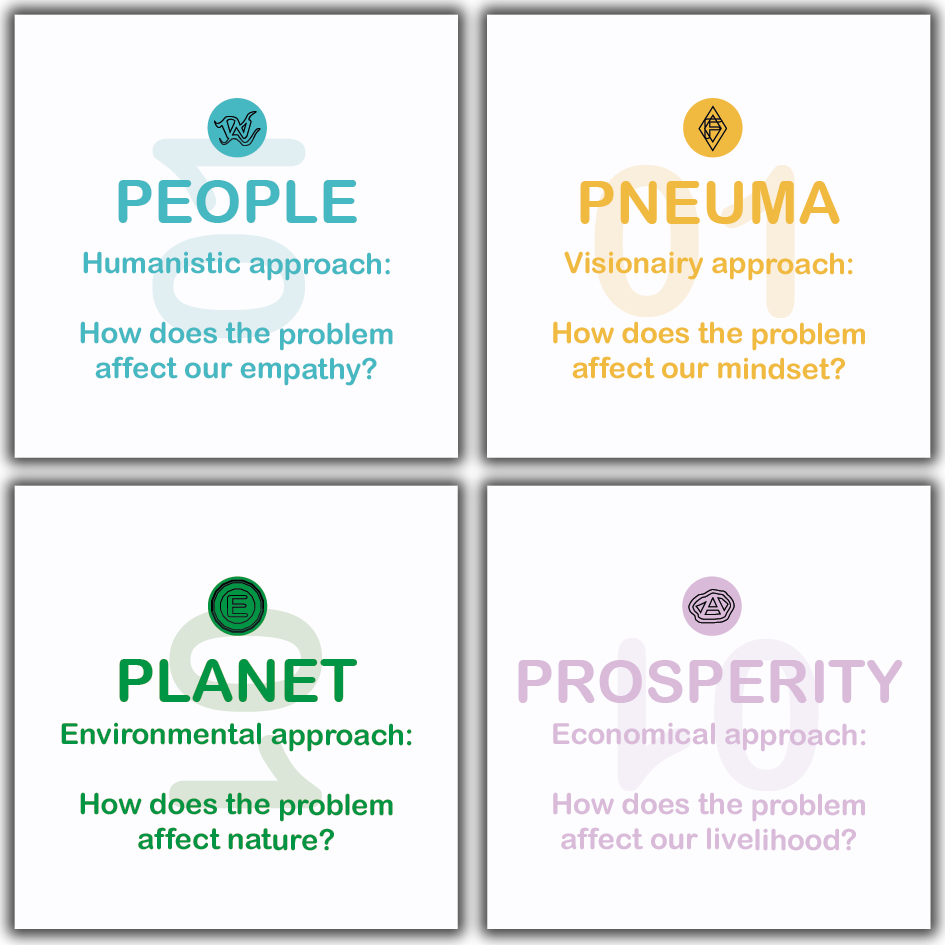 Human Perspectives
In the Me-We vision, we have a consideration matrix based on the well-known list of People, Planet, Profit but changed Profit in Prosperity and added Pneuma!
An important insight about insights is that they are formed from different angles and interests of those involved. When it comes to human existence, the human environment and its influence on it cannot be ignored. Early in the 1970s, the the– theologian Edward Schillebeeckx talks about a balance between nature and technology, which he describes as an anthropological constant. In the Me-We vision, we have a consideration matrix based on the well-known list of People, Planet, Prosperity. We add Pneuma as an extra dimension to this. A word that comes from the Greeks and means breath. In a religious context, it also means spirit or soul. At Me-We we use this word to talk from a holistic mindset with a vision for the future.
*Pneuma
ancient Greek
> breath
religious context
> spirit or soul
Me-We context
> holistic vision-future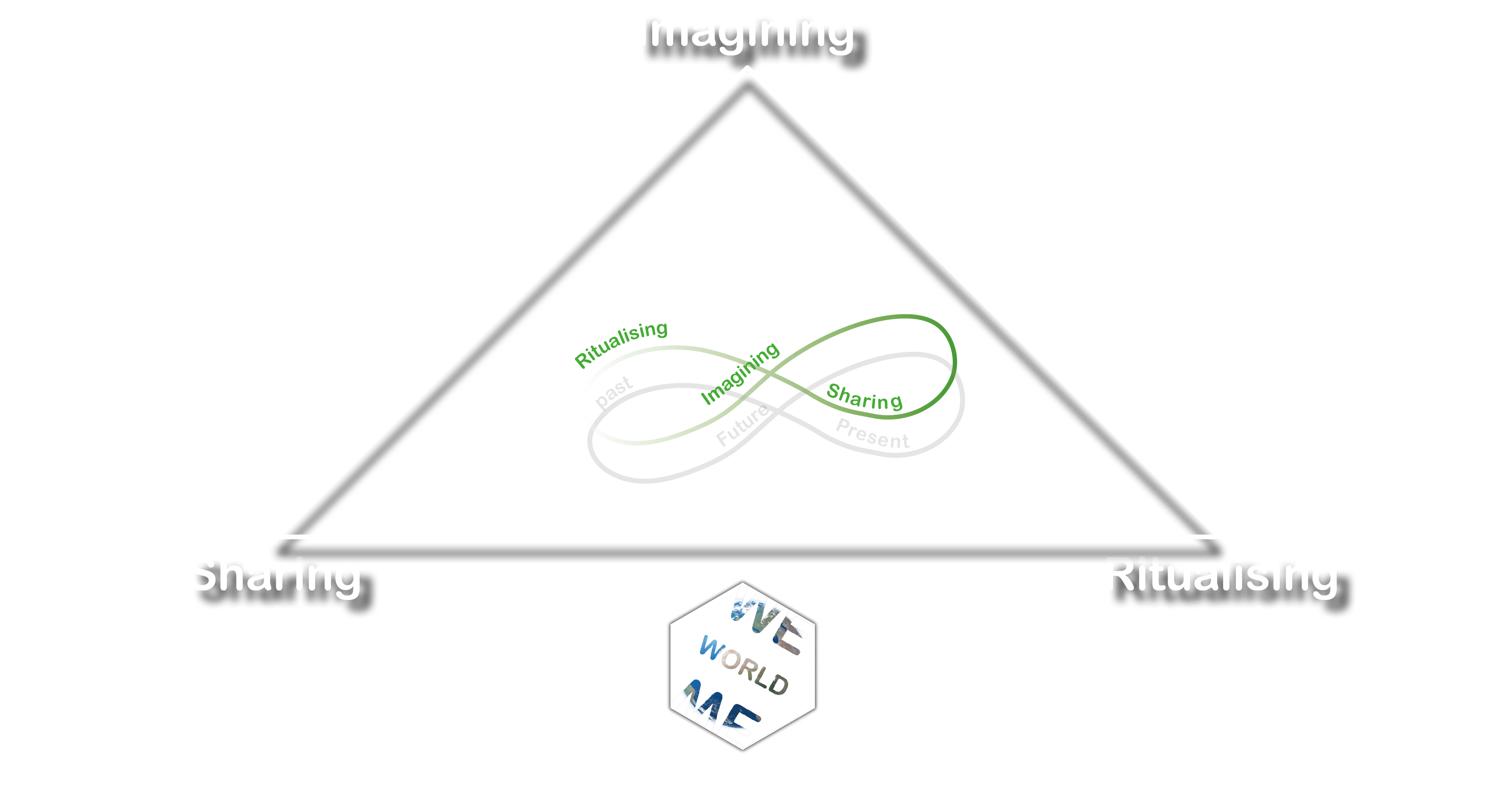 Human actions
From the Me-We vision, people are mainly engaged in 3 actions during life. These actions are regenerative. First, we use the term Ritualization. This verb contains the concept of Ritual, which can be described as an action with meaning. This Meaning is inseparable from where we come from and what shaped us (our past). What do we know and what have we learned? In a practical context, this is about education and communication. As a second action, we call sharing. In practice, this is usually about the distribution of prosperity and well-being and the planet we share with each other. It is about being together and working together and its current status. We call the third action imagining. This action gives us a perspective for the future. Something to live up to! This action requires vision and creativity. In practice, it is about anticipating the future. In our workshops and games, we use roleplaying, scenario and consideration cards to inspire people.

Ritualising
In this Life action, we try to understand what someone's background is. A person is formed by his/her origin, education and the environment where he/she grew up. This is important for communication between people from different environments.
Imagining
This is a Life action, where man collects the knowledge that he gains during his life and converts it into technology to improve and continue the quality of life on earth. Innovation for sustainability is the focus here when thinking from an anthropocentric life vision! The real challenge is after anthropocentrism!
Sharing
This Life action is about the distribution of wealth and welfare for all life forms on earth. This is important to gain insight into people's right to exist, but especially for all other life forms on earth. There is one earth as far as we know and we are interdependent!
Human Actions in context
Below you find an overview where you can see how Human actions relate to the 4 aspects: Drive, Purpose, Values and systems.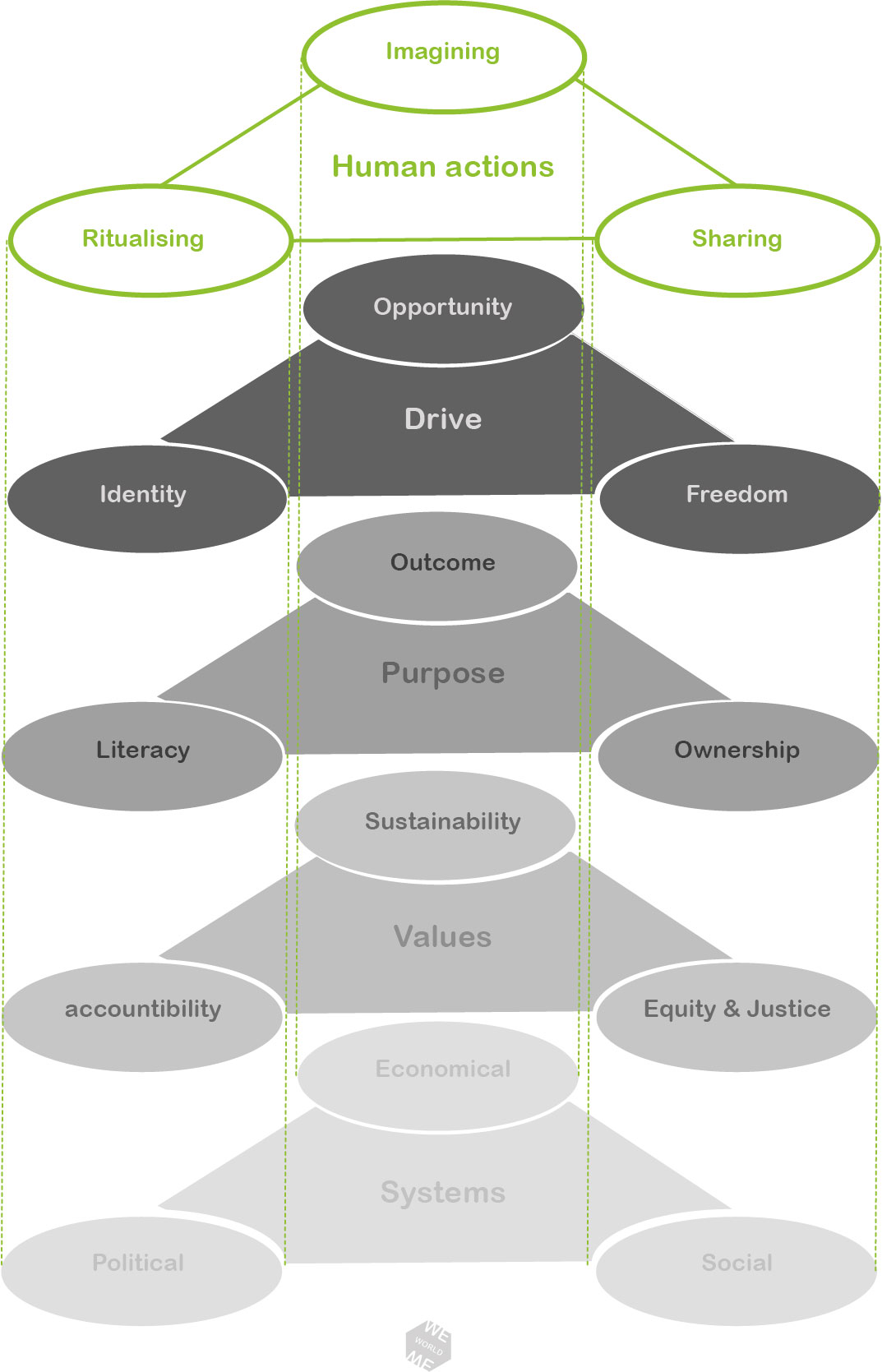 The Me-We Frame
This pdf gives some background information about the Me-We frame and also provides links regarding the subjects that are mentioned.
Download compact presentation pdf
About Design Thinking
This pdf provides information about Design Thinking. There is an overview of the implementations and there are links with additional information.
Download compact presentation pdf